One of the most dramatic demonstrations of the power of the tides is found in the Western Passage of the Passamaquoddy Bay towards the mouth of the Bay of Fundy. "Old Sow" is the largest whirlpool in the western hemisphere, the second largest in the world – second only to the Maelstrom Whirlpool of Norway.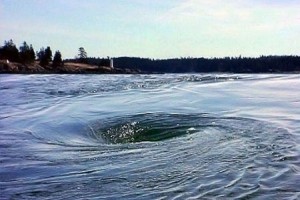 Old Sow Whirlpool can be seen from the shores just off the southwestern tip of Deer Island, New Brunswick, toward Eastport, Maine, on the incoming tide; however, on the outgoing tide it occurs (and is generally less pronounced) to the south of Deer Island, near Indian Island, NB.
This powerful whirlpool is formed when the rising tide passes both sides of Indian Island, takes a sharp right turn around the southern tip of Deer Island to flood the Western Passage. A current of over 6 knots (11 km/hr or 6.9 mi/hr) has been experienced off Deer Island Point. In addition to the waters pressing through the narrow straight, the waters are forced along the peaks and valleys of the ocean floor – a trench as deep as 122 meters (400 feet), followed by a reduction in water depth to 36 meters (119 feet) and again followed by a depth of over 107 meters (350 feet). The current of inflowing tributaries within the Passamaquoddy Bay add to the already busy waters.
Old Sow gets its name, not from the sound, but (although the origin of the name is unknown) most likely from the word "sough" (pronounced "suff"). The meaning of sough is: a type of drain or a sucking sound. It is plausible that, long ago, people referred in writing to the whirlpool as a sough, and those not familiar with the word, but familiar with "plough," mispronounced it as "sow" rather than "suff," and the name stuck.
What is the Best Time to See Old Sow?
Old Sow is reported to be most active about 3 hours before high tide. This activity continues for about two hours and takes the form of a collection of small gyres, troughs, spouts and holes and on the rare occasion will form one large funnel. This area, which has been reported to be as wide as 76 meters (250 feet) in diameter, can best be described as turbulent water. However, during spring tides (high water tide caused by a full or new moon) combined with high winds or a tidal surge will increase Old Sow's activity causing more intense funnels and formations.
Additional Reading:
It'll Thrill Ya, It'll Kill Ya – Wired.co