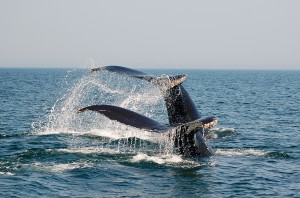 Imagine the excitement when you first view the blow of a whale spouting. The Bay of Fundy is teeming with wildlife and is a critical habitat for many species of whales and dolphins. Home to over eight species of whales and a whale population that can exceed 300 at any one time, the Bay of Fundy is a fantastic destination for whale watchers. Bay of Fundy whale watching tours are run out of St. Andrews, Grand Manan and Campobello Island in New Brunswick and out of various harbours near Digby, Nova Scotia.
Commonly sighted aboard these whale watching tours are the Humpback whale, Minke whales, and Finback whales. The Bay of Fundy also has a Nursery for the Endangered North Atlantic Right Whale. Other whales occasionally sighted in the Bay of Fundy include the Sei Whale and Pilot Whale. A rare sighting would include the Blue Whale, Sperm whale, Killer whale, and Beluga whale. For more information about the whales, visit our Bay of Fundy Whales section.
If you want to see whales and dolphins during your trip it's important to note that the Bay of Fundy whale watching season runs from June to October inclusive. The best month to see whales and other wildlife is August. The whales and dolphins of the Bay of Fundy are graceful and spectacular and sure to be a highlight of your vacation!
The Vessels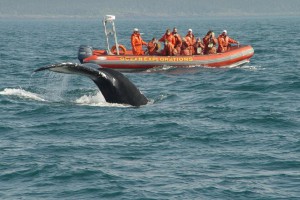 A whale watching tour experience can differ depending on the type of vessel used. There are four main types of vessels used: converted fishing boats, catamarans, motor/sailing vessels and zodiacs.
A zodiac will give you a unique perspective by putting you at the same level as the water surface, however the other vessels provide a much smoother ride and provide shelter from the cool Bay breezes and other weather elements.
Whale watching companies communicate with each other while on the water and most of time all boats are in the same area and see a similar amount of whales. Selecting a whale watching tour ultimately depends on your personal preference, but make sure you keep an eye on the extras being offered by some companies.
Such added value items can include a touch aquarium with starfish, sea urchins, crabs, etc. and/or some complimentary snacks on board. For example, the Jolly Breeze Tall Ship of St. Andrews is the only vessel to provide a heated cabin, blankets and rain jackets for all. They are also the only vessel that has a licensed bar for the adults and provides pirate costumes and face painting for the kids. They'll even hand out honorary captain's certificates for steering the vessel and hauling up a sail.
What To Expect From A Whale Watching Tour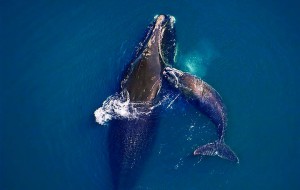 There are many whale watching eco tours and island tours around the Bay of Fundy including departures from St. Andrews, Deer Island, Campobello Island, and Grand Manan in New Brunswick, and Digby Neck, Long and Brier Island in Nova Scotia. All tours provide experienced guides to answer your questions.
Even in the summer heat the waters of the Bay of Fundy can be as cold as 2 degrees Celsius (36 degrees Fahrenheit) which can result in cool ocean breezes. How cold the whale watching experience can be varies on what type of vessel is used for the tour, but you should be prepared with extra clothing as it is cooler on the water. Bring a camera and binoculars if you have them. Reservations are often required as the whale watching tours fill up quickly.
The whale watching tours follow the Bay of Fundy Marine Tour Operators Code of Ethics which includes no chasing, harassing or herding the whales. This is to ensure that the whales are not disturbed from their natural routine or injured. Occasionally a whale may choose to come within 25 feet of the whale watching tours vessel and provide a truly memorable experience. Although extremely rare, at times a group of Right Whales might form a SAG (surface active group), averaging 6-15 whales rolling and courting each other, the water churning, snouts, flippers and tails displayed. This impressive sight can be seen in the video to the right.