The shores of the Bay of Fundy offer miles of rugged terrain with amazing scenery and intense challenge for hikers. The Fundy Trail Parkway, Fundy National Park and Cape Chignecto Provincial Park contain miles of quiet trails just waiting to be explored.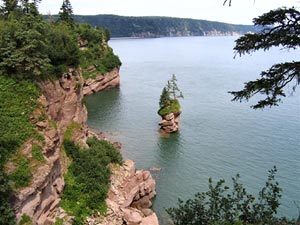 The Fundy Trail at present can be divided into two areas: the Parkway and the Fundy Footpath. Trails within the Parkway are well maintained with groomed paths and wooden steps. For the hardcore hikers, the Fundy Footpath offers incredible challenge and rewarding views. This four to five day, backwoods hike has been described by some as the East Coast equivalent to the West Coast Trail. Hikers have to time their arrivals at certain points along the hike with the tides in order to cross rivers and sections of beach.
Fundy National Park contains 110 km (68 miles) of trails for hikers of all skill levels, ranging from short walks to a 45km (28 miles) hiking circuit around the park. Wilderness campsites are available by registration.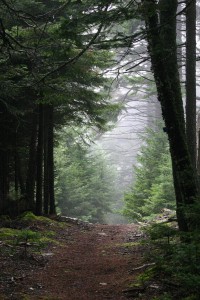 The park is situated where the Caledonia Highlands meet the Bay of Fundy creating spectacular scenery and challenging hiking. Observe a flora rich environment with a variety of ferns, mosses and lichens. Watch for frogs, salamanders, flying squirrels, white-tailed deer and moose, among many other creatures that reside in this national reserve.
Cape Chignecto Provincial Park preserves 29 km (18 miles) of breathtaking shoreline along the peninsula that separates the Minas Basin from the rest of the Bay. Though a few easy trails are available, the majority of the hiking found in this coastal wilderness is challenging to very challenging. Because of the proximity to the head of the Bay and the height of the tides that occur there, this park offers spectacular views and unique experiences. Check in with the Visitor Centre for special instructions and advice that is necessary when dealing with the high and fast rising tides.
When hiking Fundy, always be aware of the rising tide and be prepared for cool weather. Fog can roll in at amazing speeds to make a bright summer day damp and dim.