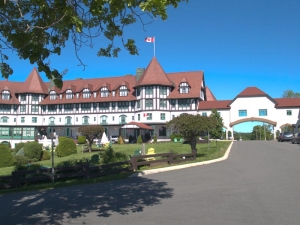 True to its name, St. Andrews by-the-Sea is set on the Passamaquoddy Bay, a great place to experience many marine wonders. One of the best-preserved examples of colonial heritage in North America, St. Andrews is a National Historic District and Canada's Oldest Seaside Resort Town. Explore Water Street to find many interesting shops, featuring local crafts, soaps and artwork, and many fabulous dining establishments. During your time in St. Andrews you will find the residents friendly and its small town values apparent. Popular activities in and around St. Andrews include beachcombing, golfing, sea kayaking, sightseeing, shopping, and whale watching
Off Season Population: 1700
Summer Population: 2500
Industries: Tourism
Community Links:
http://www.town.standrews.nb.ca/
http://www.standrewsnb.ca/standrews.htm
http://www.quoddyloop.com/sa.shtml
http://pendlebury.nblighthouses.com/
The Atlantic Salmon Interpretive Center
Just outside the Town of St. Andrews visit The Atlantic Salmon Interpretive Centre. View interesting displays detailing the wondrous life cycle of the salmon, its struggle for survival in a constantly changing world and its unqiue relationship with human-kind. Other displays within the centre focus on famous anglers, dedicated conservationists and traditional Atlantic salmon fly-fishing equipment and memorabilia. Stroll the tranquil nature trails, see working displays of stream enhancement and protection techniques and bring along a basket of food for a nice picnic overlooking a dam.
Open daily 9am-5pm May 18-October 13. Admission charged.
Huntsman Marine Science Centre's Fundy Discovery Aquarium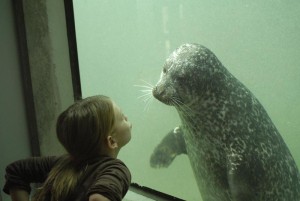 The centre provides its visitors with an excellent opportunity to learn about the diverse life forms found in and around the Gulf of Maine and the Bay of Fundy Coastal region. Find fascinating displays of marine life including an invertebrate touch pool, a skate touchpool, marine fish, whale murals, interactive fisheries displays, and a 30-foot high tidal tank. The seals at the Huntsman Marine Science Centre will also be sure to warm your hearts all year long.
May/November: Open 7 days a week, 10am-5pm; November/May: Open 4 days a week, Thursdays-Sundays 10am-5pm. Seal Feedings: 11am and 4pm daily. Admission charged.
Kingsbrae Gardens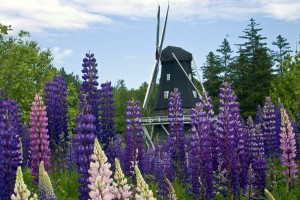 Described as a "27 acre horticultural masterpiece", Kingsbrae Gardens was Attractions Canada's Best Developed Outdoor Site for 2001. Built on several grand old estates, Kingsbrae Gardens incorporates both new and traditional gardening styles. Follow walking paths through the various gardens, including the Bird and Butterfly Garden and the Scents and Sensitivity Garden, and appreciate over 50,000 flowers, shrubs and trees that have found a home at Kingsbrae Gardens. While on site, visit the gift shop for unique souvenirs and local artwork, the plant centre for a wide selection of annuals and hard-to-find perennials, shrubs and trees and the Garden Café for a bite to eat overlooking a grounds and the Passamaquoddy Bay.
Open 7 days a week, 9:00am to 6:00pm, from May 14th to October 9th, 2004. Admission charged.
Minister's Island
Named for Loyalist Anglican minister Reverend Samuel Andrews, who settled the island in 1786, Minister's Island became the personal summer retreat to Sir William Van Horne in 1892. Van Horne, who was responsible for much of Canada's rail system stretching from coast to coast, built one of the country's finest private residences of this small island. The large 50-room home, constructed of quarried sandstone, is named Covenhoven after Sir William's father and includes a massive drawing room with an original pool table.
You can either walk, drive, or bike onto the island at low tide. Two-hour guided tours are available at a small cost and include a visit to Covenhoven, a tour of the bathhouse with its tidal swimming pool, a tour of the livestock barn, interesting facts and a stop on Shea's Hill for a magnificent view of the Passamaquoddy Bay.
Ross Memorial Museum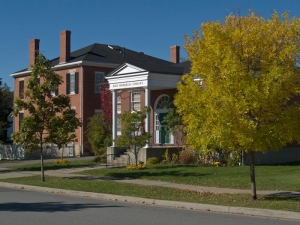 The Ross Memorial Museum, a 1824 Gregorian mansion also referred to as Chestnut Hall, showcases the art collection of Henry Phipps and Sarah Juliette Ross – an American couple who fell in love with St. Andrews in the 1902 and spent the next 40 summers in this seaside, resort town. The collection includes the fine work of 19th century New Brunswick cabinet makers and "objets d'art" from the couple's world travels.
Open throughout July and August, Monday through Saturday 10am-4:30pm and September through mid-October, Tuesday through Saturday 10am-4:30pm. Admission by donation.
St. Andrews Blockhouse National Historic Site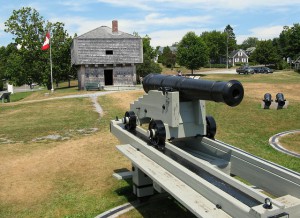 Visit the St. Andrews Blockhouse and step back in time to the War of 1812, a conflict resulting from strained relations between Great Britain and the United States. This Blockhouse not only protected this seaside town, but the colony of New Brunswick against attack as New Brunswick was highly valued for its overland route to Canada. Following the War of 1812, the Blockhouse was used for military service in the Maine Boundary dispute of the 1840s and following the American Civel War of the 1860s. A Canadian National Historic Site since 1962, the Blockhouse was nearly destroyed by fire in 1993, however the community and Parks Canada worked together to restore the Blockhouse to the site it is today. Inside visit the barracks room and storage loft and also read the six illustrative interpretation panels on site to learn more about blockhouse use and daily life in a garrison town.
Open June 1 – September 1, 9am-8pm and September 2-15, 9am-5pm. Admission C$1/person.