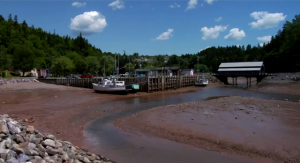 An hour outside Saint John on the Fundy Coastal Drive will bring you to the charming, fishing village of St. Martins. Set on the Bay of Fundy, visitors love exploring the miles of unspoiled beaches, learning about fresh and salt water fishing, the active harbour with its twin covered bridges, and the sea caves and salt marshes. Also, drive the Fundy Trail to previously unreachable coastal areas and take in the natural beauty. Popular activities in St. Martins include biking, bird watching, hiking, nature walks, rock hounding, and sea kayaking
Population: 374
Industries: Fishing, Tourism
Community Links:
http://www.stmartinscanada.com/
http://www.fundytrailparkway.com
Fundy Trail Parkway
Explore the Fundy Trail and travel to previously unreachable coastal areas. Learn of the community's rich past in logging, fishing and shipbuilding, spot plant, marine and wildlife in their natural habitats, witness the ebb and flow of world's highest tides and enjoy absolutely striking scenery. The Fundy Trail offers paved auto parkways, hiking and biking trails and stairways to unspoiled beaches. Admission charged.