A tidal bore is a tidal phenomenon in which the leading edge of the incoming tide forms a standing wave of water that travels upstream, against the current of a river or narrow bay. The word bore derives through Old English from the Old Norse word bara, meaning a wave or swell.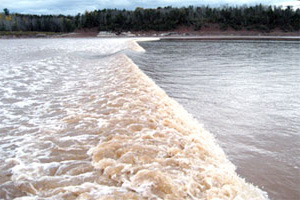 A tidal bore is indeed a true tidal wave and is not to be confused with a tsunami, which is a large ocean wave traveling primarily on the open ocean. Tidal bores takes place twice a day during the flood tide and never during the ebb tide. A tidal bore may take on various forms, ranging from a single breaking wavefront with a roller to a smooth wavefront followed by a train of secondary waves (whelps). Large bores can be particularly dangerous for shipping, but also present opportunities for river surfing.
Tidal bores occur in just a few locations worldwide. These are normally places with a large tidal range where incoming tides are funnelled into a shallow, narrowing river or lake via a broad bay. The funnel-like shape both increases the height of the tide and decreases the duration of the flood tide so it appears as a much more sudden increase in the water level.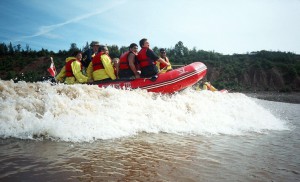 One of the places where this spectacle occurs is at the head of the Bay of Fundy. The Chignecto Bay and Minas Basin form two arms at the head of the Bay, fed respectively by the Peticodiac River and the Salmon River. At high tide, the extraordinary volume of water in the Bay floods into these rivers and, as the river banks narrow, the compressing waters rise in a spectacular surge and a visible standing wave, sometimes 1 meter (3 ft) in height! As the maelstrom of roaring, churning water races upstream at speeds close to 15 km per hour (10 mph) it generates rapids in its wake that are between 3 and 3.5 meters (10-12 ft) high. Many people have likened the sound to that of an approaching railway train, and first-time viewers are usually struck with awe.
In the Bay of Fundy region there are several excellent places both to watch a tidal bore from the shore or to ride its waves with an adventure tour company. Learn more about how to best experience the tidal bore in our activities section!i