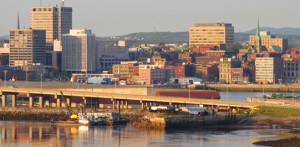 Find lots to do in Saint John, New Brunswick – Canada's oldest incorporated city. Learn of the city's fascinating loyalist heritage, visit the New Brunswick Museum or take a ride through the famed Reversing Rapids. Make time to explore the city's historic downtown and discover interesting shops, fabulous dining and entertainment for all ages. Often referred to as the Fundy City, Saint John is only a short drive away from many natural, seaside attractions. Popular activities in and around Saint John include golfing, hiking, sightseeing, shopping, thrill rides.
Population: 70,589
Greater Saint John Population: 99,210
Industries: Commercial Port, Telecom, Tourism, Oil, Pulp and Paper
Community Links:
http://discoversaintjohn.com/
http://www.gnb.ca/0130/
http://www.sjport.com/
"Uptown" Saint John Attractions
New Brunswick Museum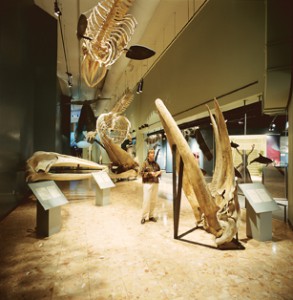 Learn more about the province you are visiting with a trip to the New Brunswick Museum. The New Brunswick Museum offers its visitors many exhibits and galleries with something new and different to be found in each. In the Hall of Great Whales see the skeleton of a Right whale that washed up on the Bay of Fundy shores, in the Shipbuilding Gallery learn about the city's first major industry and in the Discovery Gallery find exciting, hands-on exhibits.
Other permanent exhibits include artwork from New Brunswick, Canada and the World, Birds of New Brunswick, Our Changing Earth and more. The New Brunswick Museum is the oldest continuing museum in Canada and can be found in Market Square, Uptown Saint John. Admission charged.
Old City Market
The Saint John City Market, the oldest continuing market in Canada, first opened in 1876 and runs the length of a city block. Upon entering the City Market look up at the rafters and notice its resemblance to an inverted ship's hull. Inside this busy market you will find local produce, fresh seafood, old-fashioned butchers, delightful bakeries and interesting souvenirs and crafts. The perfect place to fill your picnic basket or to buy yourself a little something to remember your time Saint John.
Old Loyalist Burial Ground
The Loyalist Burial Ground was established after the landing of the United Empire Loyalists in 1783 and was closed as a cemetery in 1848. Today it is a memorable garden with tree-lined pathways and beautiful flowerbeds. Throughout the grounds find statues of the Canadian beaver, depicting the "hard work, enterprise and tenacious resolve of the city's founders and those who followed". Located in the centre of the city, the Old Loyalist Burial Ground is a beautiful spot to sit, relax and take in the city.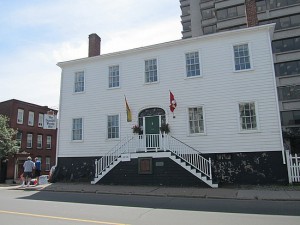 Loyalist House
Built in 1810, this Georgian-style house is the oldest building in the City of Saint John. Built by a wealthy Loyalist from New York, David Daniel Merrit, six generations of Merrit's went on to call this Union Street dwelling "home". Loyalist House contains many impressive features such as eight fireplaces, authentic Georgian antique furnishings and a graceful curving staircase. Open June through September. Admission charged.
Barbour's General Store
Originally located in Sheffield, New Brunswick, 60 miles up the St. John River, Barbour's General Store was brought to Saint John in 1967 to mark both the centennial year of Canada and the G.E. Barbour Company. Set up as an authentic 19th century country store, the museum boasts over 2000 artifacts including china, cooking utensils, farm tools and an interesting pharmacy. Barbour's General Store is located in Uptown Saint John, at Market Slip, and is staffed by costumed interpreters. Open mid-June through mid-September.
Harbour Passage
Harbour Passage is a fabulous system of walking and biking trails that connects Uptown Saint John to the city's North end. Following Saint John's inner harbour, this passage way is marked by various heritage sites, lookouts and great interpretive panels. While traveling along Harbour Passage take note of the ebb and flow of the tides and the activities of a working port.
Imperial Theatre
Saint John's Imperial Theatre is a performing arts facility often frequented by such groups as Symphony New Brunswick, Theatre New Brunswick, The Saint John Theatre Company and Opera New Brunswick. A beautiful venue which seats 900 people, be sure to check the schedule of events to see what is playing during your time in Saint John.
Saint John Jewish Historical Museum
A beautiful example of the High Victorian-Gothic style designed by renowned Saint John architect David E. Dunham, the Saint John Jewish Historical Museum was created in the 1980s to preserve the Jewish heritage of the city. This is the only Jewish museum in Atlantic Canada. Located next to the Shaarei Zedek Synagogue, the Saint John Jewish Historical Museum is open between mid-May and October. Donations are accepted.
Three Sisters Lamp
The first lamp, an oil lamp, was erected in St. Patrick's Square at the end of Prince William Street in 1842 and then replaced by a gas lamp in 1847. Then two years later in 1849, a post containing three red gas lamps, visible for three miles seaward, was stationed at the end of Prince William Street. If the three red lamps appeared individually, sailors would know they were heading straight into the harbour, however if only one or two could be seen sailors knew they needed to alter their course.
Other Saint John Area Attractions
Carleton Martello Tower National Historic Site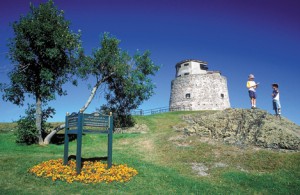 Dating back to the War of 1812, Carleton Martello Tower played an important role in protecting this Loyalist City all the way up until WWII. See restored barracks and black powder magazine at this site as well as stunning scenes of the surrounding city and harbour.
Open daily June 1-October 10, 10am-6pm. Admission charged.
Cherry Brook Zoo
The first accredited zoo in Atlantic Canada, Cherry Brook is located in northern Saint John and is comprised of nearly 40 acres. While visiting the over 150 animals that call Cherry Brook Zoo home also make a point to stroll through the native herbal medicine garden and the Vanished Kingdom Park. In fairly recent addition to the zoo, the Vanished Kingdom Park allows visitors to take a step back in time to walk among species that once roamed the earth including replicas of the giant Elephant Bird and the tiny Blue Buck. Cherry Brook Zoo is a non-profit, charitable organization. Open year-round, 10am until dusk. Admission charged.
Fort Howe National Historic Site
Built in 1778 to protect the St. John River from American privateers and native unrest, Fort Howe consisted of eight cannons, barracks for one hundred and two blockhouses when the loyalists arrived in the Port City in 1783. In 1785, Fort Howe soldiers formed the city's first police force and the blockhouse became a prison. Today, Fort Howe provides its visitors with incredible views of the Saint John Harbour.
Irving Nature Park
Spend some time at the Irving Nature Park on the West side of Saint John. Over 20 kilometres (12 miles) of nature trails are clearly marked for ease of access. Here you can enjoy bird watching, long sandy beaches and view the amazing Bay of Fundy eco-system. No admission fee.
New River Beach
Relax on the beach, take a dip in the Bay of Fundy or pack a picnic and hike the three mile Barnaby Head Nature Trail along the Fundy shoreline. The views along the trail are wonderful, and change with the time of day and level of fog in the area. The return trail goes through a peat bog with very interesting flora. Boardwalks prevent wet feet. There is a picnic area midway, with a connection to return loop to the starting point for those who do not want to hike the entire trail. If you're feeling really daring there is also a shore diving opportunity at Tommy's Cove.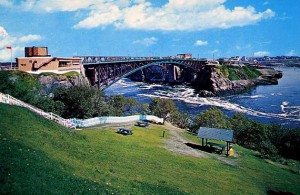 Reversing Falls
The famous Reversing Falls is a series of whirlpools and rapids caused by the world's highest tides (found in the Bay of Fundy) meeting the St. John River. An interesting phenomenon that must be seen a just before high tide and low tide.
Patridge Island
One other interesting historic site in Saint John is Partridge Island – the first quarantine station in Canada and home to the world's first foghorn, invented by Robert Foulis in the 1850's. Used as a quarantine station as early as 1785, the largest arrival of patients/immigrants occurred throughout the 1840's during the Great Famine of Ireland (otherwise known as the Potato Famine). Over 4500 sick people arrived on Partridge Island, however the hospitals could only take in 200 at a time.
There are no records of the dead and buried, although it is estimated that as many as 2000 Irish died during quarantine. A Celtic Cross on the island, and a smaller version on Prince William Street, commemorate the Irish immigrants who lost their lives to typhus either on their passage across the Atlantic Ocean or on Partridge Island. Both a National and Provincial Historic Site, public access to Partridge Island has not been allowed since 1993. Today, one lighthouse remains on the island and it can be seen from various points in the Saint John Harbour. Perhaps visit the Irving Nature Park for a look at historic Partridge Island.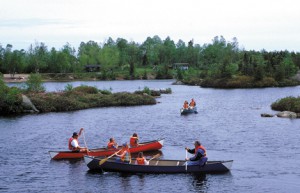 Rockwood Park
Rockwood Park is comprised of over 870 hectares of land, including ten fresh water lakes and miles of marked nature trails and footpaths ideal for hiking, walking or jogging. Of the lakes, Lily and Fisher Lakes are the most popular for their sandy beaches and lifeguard supervision. Rockwood Park is located just minutes from the centre of the city and, if nothing else, is a fantastic spot for a picnic.
Scuba Diving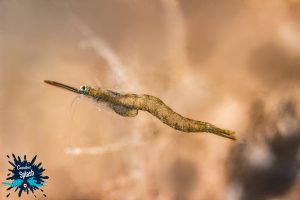 For diehard scuba divers, Saint John New Brunswick has a variety of shore diving places within an easy car ride of this industrial city. 
Divers keep in mind that when diving the Bay of Fundy, sometimes even in the sunniest and perfect surface conditions, the underwater world can be in complete turbulence. It's really hard to predict what the Bay of Fundy is going to throw at you!