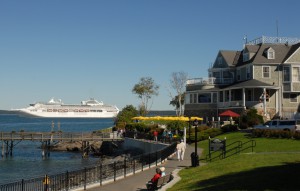 The resort community of Bar Harbor is found on the lobster claw shaped Mount Desert Island in down-east Maine. Surrounded by Acadia National Park on three sides and the Frenchman Bay on its fourth side, Bar Harbor has been described as an artistic, culinary and social center. The town is home to a wide array of services, accommodations, dining establishments, shops, galleries, activities and nightlife. Bar Harbor is renowned for being inspirational, relaxing and for its diversity of outdoor activities.
Population: 4820
Industries: Tourism, Lobstering, Fishing
Major Attraction: Acadia National Park
Community Links:
Acadia National Park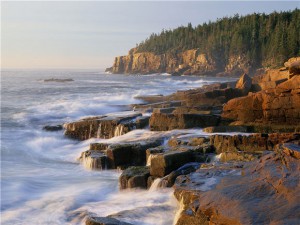 Explore Acadia National Park, nearly 50,000 acres of woodlands, mountains, lakes and shoreline. Travel the scenic 27-mile Park Loop Road through Acadia, making sure to stop at Thunder Hole. When the wind is strong, the water rushes into this inlet, traps and compresses air and the result is a thunderous boom. If you are interested, spend some time hiking the miles of motor-free carriage roads, take a dip in the Gulf of Maine or perhaps take a horseback ride through parts of the park. Climb the twisty road to the top of Cadillac Mountain – the highest point on the eastern seaboard north of Brazil and the first place the sun rises in the United States. Rise 1000 feet in only three miles. Admission charged.