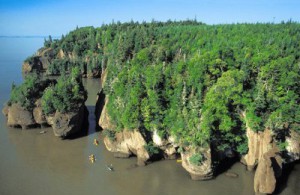 The Fundy Isles' Campobello Island, 70 sq. km (30 sq. mi), is connected to the mainland only by the Franklin D. Roosevelt Memorial Bridge at Lubec, Maine. To reach Campobello Island from Canada, one has to take two ferries – one from mainland New Brunswick to Deer Island, and then a second ferry to Campobello Island.
Two of the island's most popular sites include the Roosevelt Campobello International Park – former summer home of President and Mrs. Roosevelt – and East Quoddy Lighthouse – one of the most photographed lighthouses in the world. Popular activities on Campobello Island include beachcombing, bird watching, hiking, nature walks, and whale watching.
Population: 1,195
Industries: Fishing, Tourism
Community Links:
http://www.visitcampobello.com
http://en.wikipedia.org/wiki/Campobello_Island,_New_Brunswick

Getting to Campobello Island
By Ferry
One way to reach Campobello Island is travel to L'Etete, New Brunswick, and line up to board one of two goverment operated ferries that leave L'Etete for Deer Island every half hour between 6:30am and 5:00pm and every hour between 5:30pm and 10:30pm. There is no toll for this ferry!
Returning from Deer Island to L'Etete, the ferries departs Deer Island every half hour between 6:00am and 5:00pm and every hour between 5:00pm and 10:00pm.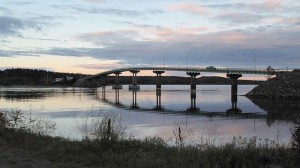 Once on Deer Island, drive across the island and get in line to board yet another ferry! This ferry service is operated by East Coast Ferries and a toll is charged for each crossing. The ferry leaves Deer Island on the hour between 8:30am and 6:30pm and Campobello on the half hour between 9:00am and 7:00pm (The two last trips are omitted in June and September). This crossing is only available June through September.
For more information pertaining to these ferry services please visit www.eastcoastferries.nb.ca.
By Land
If you are travelling to Campobello from the State of Maine, or if you do not enjoy ferry rides, cross the FDR Memorial Bridge which joins Lubec, ME to Campobello Island, NB.
Roosevelt Campobello International Park
The park, established in 1964, is one of only two of its kind in the world. Covering 2800 acres, Roosevelt Campobello International Park is home to the Roosevelt Cottage, former summer retreat of President Roosevelt and his wife Eleanor. Learn the history of the island and its significance to the Roosevelt family.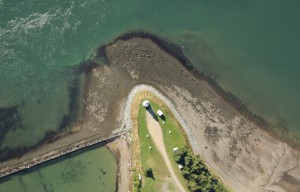 Also located in the park is Mulholland Point Lighthouse. Admission is free, but donations are accepted. Open daily late May through early October, 10am-6pm Atlantic. The last tour of the cottage is at 5:45pm Atlantic.
Herring Cove Provincial Park
Take some time to explore Herring Cove Provincial Park, on the Eastern side of Campobello Island. Stroll along the mile-long pebble and sandy beach, challenge yourself to nine-holes of golf or hike one or more of the park's six trails systems.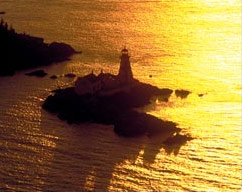 East Quoddy Lighthouse
Locally referred to as the Head Harbour Lighthouse, this is one of Canada's oldest lighthouses. Now automated, its purpose has always been to help boats navigate the Bay of Fundy and the Passamaquoddy Bay.Time your visit to the lighthouse carefully as it is only accessible an hour and a half before, and one hour after, low tide. East Quoddy Lighthouse is one of the most photographed lighthouses in the world.