Very little crowding, moderate temperatures and great value make golfing in and around the Bay of Fundy an ideal activity.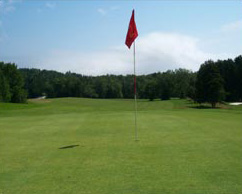 Along the Bay of Fundy coast there are nearly forty 9- and 18-hole courses with an additional sixty courses within a relatively short drive from the Bay. Some of the highest rated courses in Canada can be found in the Maritime Provinces and golfing here can be described as nothing short of invigorating, rewarding and picturesque.
Top Rated
Highlands Links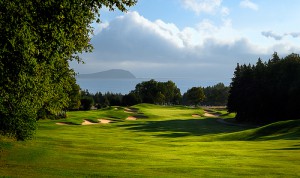 The Highlands Links Golf Club is a special place where nature has been sculpted into a one-of-a-kind golf course. This inspired 18-hole, par 72 course is set within one of Canada's most beautiful natural settings: the Cape Breton Highlands National Park of Canada. Inspired by the natural landscape, the Atlantic coastline and the contours of the mountains, world-renowned designer Stanley Thompson created his "Mountains and Oceans" course with an ingenious routing through rocky headlands to wooded glens. Dating back to 1939, the original course was restored and revitalised in 1997, capturing the attention of the international golf community.
The Highlands Links, located in Ingonish, Nova Scotia, ranks well within the top 100th in the world and is listed 6th on the list of SCOREGolf's "Canada's Top 100 Courses – 2010".
Other High Rated Golf Courses
The Algonquin Golf Course & Academy
Algonquin golf is synonymous with golfing in the Bay of Fundy region. Carved out upon the shores of the Passamaquoddy Bay in St. Andrews, New Brunswick, this historic course has met contemporary standards with a full upgrade by Thomas McBroom in 1999. Rated 4.5 stars by Golf Digest.
Herring Cove Provincial Golf Course
On beautiful Campobello Island discover the Herring Cove Provincial Golf Course. A great 9-hole layout designed by Geoffrey Cornish, this course features challenging holes and incredible views of the Bay of Fundy.
Rockwood Park Municipal Golf Course
Just 10 minutes from the Saint John harbour, this course offers a good challenge for great value. This 18 hole, par 70, public golf course has been given a 3 star rating by Golf Digest. Find a quality golf experience in a casual atmosphere.
Royal Oaks Estates & Golf Club
Just north of the Bay of Fundy in Moncton, New Brunswick, this Rees Jones designed course is among the best in the region. The course plays out on superb turf conditions among lakes and sand dunes offering both unique and breathtaking scenery.
The Pines Resort Golf Course
Set on the southern shore of the Bay of Fundy in Digby, Nova Scotia, this course was designed by Stanley Thompson. Don't be fooled by the serene surroundings, this course offers intense challenges including the par 5 seven hole, rated one of the most difficult holes in Canada.
Kingswood Park Golf
Located just over 60 miles north of the Bay of Fundy in the New Brunswick capital of Fredericton, this new course was designed by Graham Cooke and named the Best New Canadian course back in 2004. The highlight of this course is a spectacular waterfall on the 14th hole.
The Links at Crowbush Cove
Only an hour north of the Bay of Fundy, Prince Edward Island is home to The Links at Crowbush Cove. This challenging course is set among the dunes of the island's northern shore and offers spectacular ocean views. This course is definitely among Canada's elite.
Mill River
Carved out of a mature forest in western Prince Edward Island. Only 45 minutes from the Confederation Bridge, this course offers good challenge and great variety for golfers of all handicaps.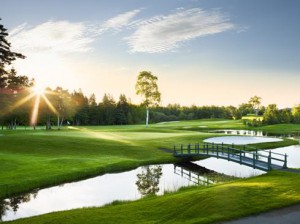 Brudenell River Resort
Composed of both Brudenell River and Dundarave golf courses, the Brudenell River Resort was ranked by SCORE Magazine as one of the Top 6 Best Golf Resorts in Canada. Brudenell River is a beautiful course and a favourite among golfers who play in PEI. Dundarave is a true Island golf experience with the red sands of PEI forming many bunkers along the greens and fairways of this Dr. Michael Hurdzan and Dana Fry creation. Rated 4.5 stars by Golf Digest Places to Play.
Fox Meadow Golf & Country Club
The Fox Meadow Golf and Country Club, just 45-minutes from the Confederation Bridge, is a challenging 18-hole course, overlooking the rural community, the historic Hillsborough River and Charlottetown Harbour. Golf Digest has given Fox Meadow a four-star rating.
Glen Arbour Golf Course
The Glen Arbour Golf Course has received 4.5-stars and "must-play" distinction from Golf Digest. The layout of sculptured bent grass fairways, bluegrass roughs, sand bunkers, paved cart paths and variety of tee options truly engages the natural setting and rewards all those who play the course.
Granite Springs Golf Course
Just thirty minutes from Halifax, near the famous Peggy's Cove Lighthouse, discover the Granite Springs Golf Course. Created in a beautiful, natural setting, this 18-hole course is a true challenge and golfers find themselves carefully thinking through each move.
Bell Bay Golf Course
Sitting high above the Bras d'Or Lakes, Bell Bay Golf Club presents a satisfying challenge to the golfer. Bent grass tees, fairways and greens, paved cart paths and the largest practice facility in Atlantic Canada, make Bell Bay a top-notch course.