The mighty Bay can be either a modifying or an intensifying energy on climatic conditions over its great mass.
A fact of life to living in proximity to the Bay of Fundy is contending with two separate and distinct weather forecasts daily – one forecast is "coastal" the other is "inland". Such is the peculiar effect that this large body of surging water has on its surrounding atmospheric environment, further corroboration of the overpowering forces at work here.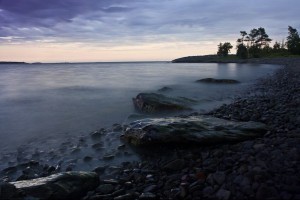 The waters of the North Atlantic ocean are cold – seldom exceeding 7/8C (44/46F) even at the height of summer. The Bay of Fundy takes in this chilled volume twice a day, maintaining a relatively constant water temperature. During the summer solstice, the cooling waters and perpetual breezes across the Bay produce a comfortable, refreshing atmosphere. However, just 8-10 km (5-6 miles) inland, once the breezes are affected by the radiated heat from the ground, temperatures are considerably warmer.
However, the reverse is not necessarily true in winter, when the Bay has a considerable modifying effect on the elements.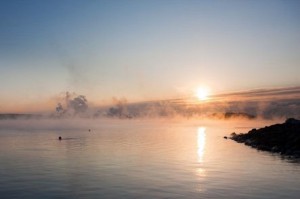 Being of heavy salt content, the Bay of Fundy does not freeze over, and further, the air over the water is heavy in saline content. And so these waters continue to play an active role influencing atmospheric conditions. During an inland winter snow storm the closer you are to the Fundy coast, it is common to see the precipitation change to freezing rain or rain.
The most conspicuous weather condition produced by the Bay is fog. Thick, damp, murky fog that can chum and wisp across the shores to permeate the lands and forests for miles. The fog is formed when warm, moist air moves off the land and over the cold Fundy waters. As the air cools, it condenses to form millions of microscopic water droplets in the air. Indeed, Saint John, New Brunswick is officially Canada's second-most foggy city (the dubious top honour going to St. John's, Newfoundland).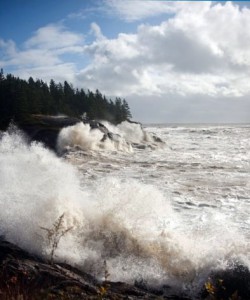 And despite the leading-edge technology and expertise of Environment Canada and the U.S. National Weather Service, the most qualified and accomplished professionals at reading the natural signs of the Fundy skies are the fishermen, the hardened men of grit and courage who make their living year-round on these sometimes treacherous waters. Talk to a Fundy fisherman – he's not concerned about temperature (cold is cold, hot is hot), nor with rain, snow or fog (not with radar and GPS receivers). He is critically concerned about the one element that cannot be controlled or circumvented: the wind.
For the wind alone determines the mood, spirit and temperament of the Bay. Discover the natural activities available in and around the Bay of Fundy.