The Bay of Fundy offers fantastic opportunities for kayaking. With six hours between low and high tides, the view of the tide worn shores is constantly changing. The Bay has a large population of whales, birds and seals, providing endless possibilities for wildlife viewings along the way.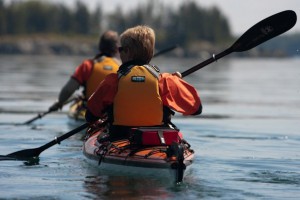 The waters can be still at times, as the Bay can offer shelter from the open ocean's wake creating fantastic conditions to explore a largely undeveloped shoreline. However, kayaking Fundy's waters should always be taken seriously and ideally be paddled with a guide. The high tide of the Bay creates unique conditions and difficult currents. In addition, the weather systems change quickly. A blowing fog or an onshore wind on a falling tide can produce precarious conditions quickly. The estimated limit of exposure within the cold Fundy waters is only 15 minutes so attention to safety is essential when kayaking on the Bay of Fundy.
Guided kayaking is available at Cape Chignecto, Hopewell Cape, Fundy National Park, St. Martins, St. George, St. Andrews and more. However, a favourite for advanced kayakers is the waters surrounding the Fundy Isles. Among this group of Island's is one of the world's largest whirlpools, called 'Old Sow'. This swirling and twisting of water is evidence of the mighty currents pulling beneath the water's surface. The area offers plenty of challenge, incredible scenery and close up views of an abundance of wildlife.
Additional reading:
http://canoekayak.com/whereto/easterncanada/bay_fundy/
http://www.travelwithachallenge.com/Kayak-to-Canada.htm