While traveling along the Fundy coasts of Maine, New Brunswick and Nova Scotia, discover many diverse parks of international, national, provincial or state significance.
Explore untamed, natural beauty, hike miles of rugged trails, observe rich eco-systems or watch the sunrise from the highest point along the Eastern seaboard north of Brazil. Perhaps pack a picnic and spend the day or merely drive through and appreciate the fantastic scenery.
National Parks
Fundy National Park
Alma, New Brunswick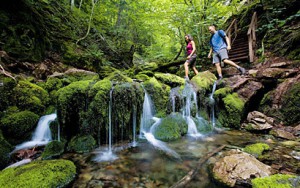 Where the Caledonia Highlands meet the fog-generating Bay of Fundy, you'll find New Brunswick's first national park.
Fundy National Park is home to over 260 species of birds, various amphibians and reptiles (including three rare types of salamanders) and nearly forty species of mammals.
There are also two interesting rock formations in the park. The gray and beige Owls Head cliffs are composed of sandstone and Point Wolfe holds the oldest rocks in Fundy National Park formed by volcanoes and the movements of the continents.
Go hiking, biking or take a refreshing swim. Just outside the park, visit the fishing village of Alma, for great, fresh seafood.
Visitor Centre is open daily 8am-10pm June through Labour Day. and 8am-4:30pm in the shoulder season. Admission charged.
Kejimkujik National Park
Southwestern Nova Scotia
The only inland national park in the Maritime Provinces, Kejimkujik is comprised of lush woodlands, rolling terrain and an abundance of lakes and rivers.
In "Keji", as it is more often called, discover a variety of wildlife. Mammals such as the white-tailed deer, black bear, beaver, coyote and American marten, in addition to 178 species of birds, 13 species of amphibians and eight species of reptiles, call the park home.
In regards to flora, 544 species of vascular plants have been identified at Keji. This number includes 23 fern, 15 orchid and 37 aquatic species of plantlife. Also, while visiting the park, learn of its past inhabitants: Maritime Archaic Indians, Nomadic Woodland Indians and the Mi'kmaq people.
Take a guided walk to see petroglyphs representing the Mi'kmaq way of life, art and observations of people within the 18th and 19th centuries. At a later point in time, the land that is now Kejimkujik National Park was also home to three small gold mines of which remains of pits, iron boilers and cabins can still be found.
Kejimkujik National Park is a great place for fishing, swimming, hiking, biking, canoeing, birdwatching and, in the winter months, cross-country skiing.
Open year-round. Admission charged.
Acadia National Park
Bar Harbor, Maine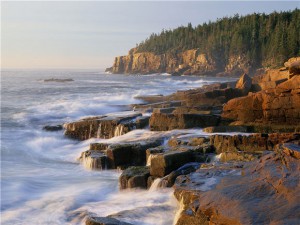 Explore Acadia National Park, nearly 50,000 acres of woodlands, mountains, lakes and shoreline. Travel the scenic 27-mile Park Loop Road through Acadia, making sure to stop at Thunder Hole.
When the wind is strong, the water rushes into this inlet, traps and compresses air and the result is a thunderous boom. If you are interested, spend some time hiking the miles of motor-free carriage roads, take a dip in the Gulf of Maine or perhaps take a horseback ride through parts of the park.
Climb the twisty road to the top of Cadillac Mountain – the highest point on the eastern seaboard north of Brazil and the first place the sun rises in the United States. Rise 1000 feet in only three miles.
Visitor Centre is open 8am-6pm during July and August and 8am-4:30pm in other months. Admission charged.
Other National Parks Within the Maritime Provinces
Cape Breton Highlands National Park
Cape Breton, Nova Scotia
Named after the famous explorer John Cabot, the Cabot Trail is one the most beautiful scenic drives in the world. Drive the winding highway, traveling from isolated, remote fishing villages to the top of the mountains, including Cape Smokey. Cape Breton Highlands National Park, a part of this magnificent trail, features dramatic scenery, abundant wildlife and history that dates back to the Ice Age. Hike, golf, swim or fish. Take many breaks along your drive to photograph the remarkable scenery and vistas. Open year round; full services available May-October. Admission charged.
Kouchibouguac National Park
Acadian Coastal Drive, New Brunswick
Meaning "river of the long tides", Kouchibouguac National Park is comprised of bogs, salt marshes, tidal rivers, abandoned lagoons, tall forests and spectacular beaches and sand dunes the stretch for 26 kilometres along the Atlantic Ocean. While bird watchers will enjoy witnessing the actions of the second largest tern colony in North America and the movements of the endangered piping plovers on the dunes, cyclists and hiking enthusiasts have the opportunity to explore some of the 60 kilometres of trails and pathways located within the park. A visit to Kouchibouguac National Park is a great way to spend the day with family, friends or alone. Open May 15-October 13. Admission charged
Prince Edward Island National Park
Cavendish, Prince Edward Island
Preserving the natural and cultural heritage of PEI's North Shore, this national park truly captures the beauty of the Island. The endless white sand beaches bordered by red sandstone cliffs provide visitors with a great place to relax in the sun or play in the surf of the Atlantic Ocean. The park's diverse sand dunes, salt marshes, ponds and woodlands provide homes for a variety of plants and animals including the endangered Piping Plover. An excellent spot for the avid bird watcher. In addition, find food outlets, gift shops, camping sites, Green Gables (the setting of Lucy Maud Montgomery's famous novel "Anne of Green Gables") and Dalvay by the Sea (a beautiful Victorian historic inn) with Prince Edward Island National Park. Visitor Centre open daily mid-June through late September. Admission charged.
Provincial and State Parks
Anchorage Provincial Park – "An Official Wildlife Site"
Grand Manan, New Brunswick
Explore the untamed, natural beauty of Grand Manan at Anchorage Provincial Park. Hike the park's nature trails, fish its freshwater ponds or set out in a canoe or kayak. To enjoy the Bay of Fundy, relax on a sandy beach or take a dip in its cool waters. Bird watchers and naturalists alike will enjoy a visit to the park's migratory bird sanctuary. Picnic and camping facilities are also available within Anchorage Provincial Park.
Blomidon Provincial Park
Blomidon, Nova Scotia
Set on the shores of the Minas Basin, Blomidon Provincial Park is home to spectacular scenery, high cliffs, abundant wildlife and some of the world's highest tides. An excellent location for hiking, beach combing, photography and simply appreciating nature.
Cape Chignecto Provincial Park
Advocate Harbour, Nova Scotia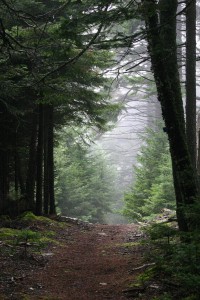 Comprised of 600-foot towering cliffs, 18 kilometres of pristine coastline, steep ravines and old-growth forests, Cape Chignecto Provincial Park is found on the Western tip of the Avalon Eco-Zone along the Bay of Fundy. Not only is the park a great place to observe the tides, as they continuously lap at the base of the cliffs, Cape Chignecto is home to some of the province's most significant geological deep valleys, fantastic hiking trails, rare plantlife, scenic views and rich cultural heritage. Open May 13-November 13. Admission charged.
Cobscook Bay State Park
Dennysville, Maine
In Dennysville, Cobscook Bay State Park is the ideal place for those in search of beautiful scenery and utter solitude. While in the park, which is surrounded on three sides by the salt waters of the Cobscook Bay, witness the ebb and flow of the tides, observe some of the over 200 species of birds that have been identified and appreciate the numerous wildflowers that grow in the meadows and woodlands. In addition, Cobscook Bay State Park features over 100 spacious campsites for camping enthusiasts.
Ellenwood Lake Provincial Park
Yarmouth, Nova Scotia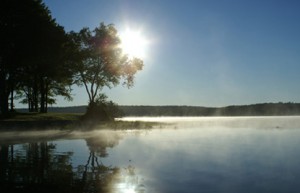 Less than twenty kilometres from Yarmouth, Ellenwood Lake Provincial Park lays nestled between two lakes in the heart of southern Nova Scotia. This 280-acre park offers its guests an excellent opportunity to enjoy the outdoors in an utterly tranquil environment. Take a leisurely stroll through the trail systems, paddle along the shores in a canoe or take a refreshing dip the Lake's clear waters. Ellenwood Lake Provincial Park is open mid-June-early September.
Five Islands Provincial Park
Five Islands, Nova Scotia
Mi'kmaq legend says that the native god Glooscap created these five islands – Moose, Diamond, Long, Egg and Pinnacle – when he threw chunks of sod at Beaver. Today the community of Five Islands hosts a provincial park, from which these islands are visible. A great spot for picnic, Five Islands Provincial Park is home to a beautiful beach, fantastic hiking trails and a non-operational lighthouse. Signs throughout the park provide visitors with information about the region's geology and it is easy to spend the hours of low tide beach combing, clam digging and rock hounding. On a hot day be lured into the waters of the Minas Basin for a refreshing swim. Beautiful vistas are abundant throughout the park.
Herring Cove Provincial Park
Campobello Island, New Brunswick
Take some time to explore Herring Cove Provincial Park, on the Eastern side of Campobello Island. Stroll along the mile-long pebble and sandy beach, challenge yourself to nine-holes of golf or hike one or more of the park's six trails systems.
Quoddy Head State Park
Lubec, Maine
While in Lubec visit Quoddy Head State Park where over 500 acres of diverse landscape wait to be explored by hikers, naturalists and sightseers. The four and a half miles of varied trails throughout the park provide hikers with opportunity to traverse through extensive forests or along bold coastline. Naturalists will enjoy strolling along boardwalks through the bogs, reading interpretive panels and spotting interesting wildlife. The two bogs within Quoddy Head State Park – West Quoddy Head Bog and Carrying Place Cove Bog, a National Natural Landmark – support a variety of rare plantlife that can only survive in a northern climate; a climate that is otherwise uncommon in Maine. Along the shores, in the water and soaring overhead, observe routines of the migratory shorebirds, seabirds and eagles and osprey that reside in the area. Quoddy Head State Park is also home to West Quoddy Light – a striking red and white stripped lighthouse that has safely guided mariners past Quoddy's dangerous cliffs and rock ledges since 1808. Wander along the cobble beach and admire the impressive 80ft black cliffs that line the shores or look across the channel to Grand Manan Island and scan the waters for seals, porpoises and whales. Breathtaking vistas and scenic sites are abundant throughout the park, making great places to sit and enjoy a picnic. Open May 15 – October 15. Admission charged.
Shackford Head State Park
Eastport, Maine
Encompassing 90 acres of undeveloped peninsula, Shackford Head State Park is mainly comprised of beaches, protected coves and rocky headlands. Eight differing hiking trails lead hikers from the parking lot through forests to headlands. At the start of the trails, in the parking lot, see a memorial to five Civil War ships that were burned on the park's Cony Beach and at the end of the trails take in breathtaking panoramic views of Cobscook Bay. Shackford Head Overlook is a great place to visit for more incredible vistas. From the Overlook, get a glimpse of Lubec, Eastport Pier, Treats Island, Atlantic Salmon cages and the Fundy Isles, including Roosevelt Cottage on Campobello Island. On the beach below, discover one of two fossil areas in Shackford Head State Park. These Paleozoic fossil beds hold fossils over 412 million years old – some of the oldest marine fossils in the state. Named after sea captain John Shackford, Shackford Head State Park is located in Eastport, Maine.
Shubenacadie Provincial Wildlife Park
Shubenacadie, Nova Scotia
Comprised of 50-acres of natural woodlands, Shubenacadie Provincial Wildlife Park provides its visitors with the opportunity to stroll tree-shaded paths and view a variety of native birds and mammals as well as large picnic and playground facilities. Open May 15-October 15, 9am-7pm. Admission charged.
Other Great Spots
Brier Island, Nova Scotia
One of Nova Scotia's best eco-destinations, Brier Island is home to twisting coastal hiking trails, two interesting lighthouses and is great place to embark on various sea adventures. Brier Island, strategically located on the Atlantic Flyway, is an excellent place for bird watching, especially during fall migration. Two short ferry rides from Digby Neck, at a cost of $5.50 round trip (Dec 2011), will bring you to this interesting island full of rare flora and fauna.
Burntcoat Head Park
Maitland, Nova Scotia
Just minutes from the Heritage Conservation District of Maitland, Burntcoat Head Park boasts the highest tides ever recorded. At the park view a replica lighthouse, explore walking trails or enjoy the surrounding scenery. Open May 15-October 31. Gates close at dusk.
Irving Nature Park
Saint John, New Brunswick
Spend some time at the Irving Nature Park on the West side of Saint John. Over 20 kilometres (12 miles) of nature hiking trails wind through marsh wetlands and rocky coastal terrain and are clearly marked for ease of access. Here you can enjoy bird watching, long sandy beaches and view the amazing Bay of Fundy eco-system. No admission fee. Click here for more information.
Fundy Trail Parkway
St. Martins, New Brunswick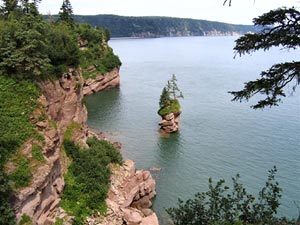 This private nature reserve makes some of the most remote and dramatic views accessible to everyone with trails for people of all levels. The park is beautifully maintained and offers an historical view into the area via an interpretive centre.
Explore the Fundy Trail and travel to previously unreachable coastal areas. Learn of the community's rich past in logging, fishing and shipbuilding, spot plant, marine and wildlife in their natural habitats, witness the ebb and flow of world's highest tides and enjoy absolutely striking scenery.
The Fundy Trail offers paved auto parkways, hiking and biking trails and stairways to unspoiled beaches. Admission charged. For more information visit http://www.fundytrailparkway.com/en/
Kentville Ravine Trail
Kentville, Nova Scotia
This trail system, the perfect place to appreciate Kentville's outdoors, follows the Cornwallis River between the town's ravine and its bird sanctuary.
Le Parc LeBlanc
Memramcook, New Brunswick
In Memramcook's LeBlanc Park hike trails, appreciate nature and relax and enjoy a serene environment.
Moosehorn National Wildlife Refuge
Calais, Maine
Explore the Moosehorn National Wildlife Refuge. Established in 1937, Moosehorn consists of two units: Edmunds Unit, 7200 acres near Dennysville, ME and Baring Unit, 17200 acres near Calais, ME. A refuge and breeding ground for migratory birds and other wildlife, Moosehorn is an excellent location for birdwatching, hiking, cross-country skiing and, in certain areas, fishing. While traveling between the two units, make a stop in Eastport – the Eastern most port in the United States. Perhaps take a mini sailing lesson/sightseeing tour on the Passamaquoddy Bay.
New River Beach
Saint John, New Brunswick
Relax on the beach, take a dip in the Bay of Fundy or pack a picnic and hike the three mile Barnaby Head Nature Trail along the Fundy shoreline. The views along the trail are wonderful, and change with the time of day and level of fog in the area. The return trail goes through a peat bog with very interesting flora. Boardwalks prevent wet feet. There is a picnic area midway, with a connection to return loop to the starting point for those who do not want to hike the entire trail. Admission: C$7/car for the day.
Rockwood Park
Saint John, New Brunswick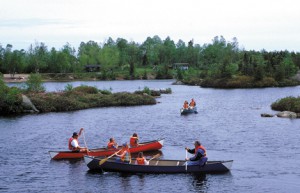 Rockwood Park is comprised of over 870 hectares of land, including ten fresh water lakes and miles of marked nature trails and footpaths ideal for hiking, walking or jogging. Of the lakes, Lily and Fisher Lakes are the most popular for their sandy beaches and lifeguard supervision. Rockwood Park is located just minutes from the centre of the city and, if nothing else, is a fantastic spot for a picnic. The on-site Interpretation Centre is open from Victoria Day weekend to Labour Day weekend, 8am-10pm. No admission fee.
Victoria Park
Truro, Nova Scotia
Truro's Victoria Park is an 1000-acre natural park featuring activities for everyone. Enjoy a picnic lunch, hike a challenging trail, take a refreshing dip in the pool, play a game of tennis or baseball or follow the winding stream to its end to view two stunning waterfalls. Open April 1-November 30.