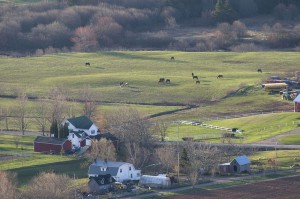 Annapolis Valley Communities
Windsor, Nova Scotia
Windsor is located in central Nova Scotia on the edge of the beautiful Annapolis Valley and is in close proximity to the Bay of Fundy. Learn more…
Grand Pré, Nova Scotia
Just five minutes outside Wolfville, visit Grand Pre to explore Acadian heritage and discover the province's oldest operating winery. Learn more…
Wolfville, Nova Scotia
In Wolfville, a charming university town, take a self-guided walking tour of Wolfville's beautiful heritage homes and take note of the town's stately trees, rich architecture and overall historic elegance. Make your way to the end of Front Street for incredible views of the dykelands, built in the 1600s by the Acadians, the Bay of Fundy and Cape Blomidon. Learn more…
Kentville, Nova Scotia
Kentville, the largest community in Nova Scotia's beautiful Annapolis Valley, is full of hometown charm. Stroll the streets to find many colorful shops and galleries or a traditional Maritime pub. If visiting at the end of May or October, be sure partake in the Apple Blosson or Pumpkin People Festival, held annually in Kentville. Learn more…
Other Annapolis Valley Attractions
Cape Split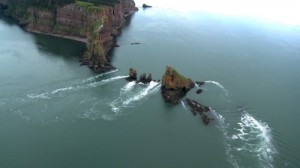 Follow a popular eight-kilometre (five-mile) hiking trail from Scots Bay to Cape Split. From this narrow finger of land, which extends nearly across the Minas Channel, views of the Bay of Fundy are nothing short of extraordinary. If timed properly, hear a hollow roar, caused by turbulent waters surging over the submarine ridges far below, that fills the cliffs and forests at the mid-point of the incoming tide. Two hours in each direction, this is one photo opportunity you will not want to pass by.
Halls Harbour
A former pirate base, today Halls Harbour is one the few authentic surviving fishing villages along the shores of Nova Scotia. Stroll along the Boardwalk, hike the ecotrail, explore the ocean floor or browse the galleries. Visit the Halls Harbour Lobster Pound for a "Lobster in the Rough" dining experience – choose, cook and crack your own Bay of Fundy lobster. Halls Harbour is a great location to witness spectacular sunsets in a quaint, friendly environment.
Sainte Famille Wines Ltd
Sainte Famille Wines is a small, family-owned vineyard and winery dedicated to the art of growing quality grapes and vinting them into fine wines, including ice wine. Set on a village founded in 1685 and known as "La Paroisse Sainte-Famille De Pisiquit", Sainte Famille Wines offers its visitors French Acadian history and incredible vistas in addition to its premium product. Take a tour of the vineyard, visit the cellar and sample the wine. In the gift shop find a variety of local crafts and products. Daily tours depart at 11am and 2pm at a nominal cost. Located in Falmouth, NS.