Whether taking a step back in time to the Acadian Deportation of 1755 or to a time where strained relations forced an incredible battle between Great Britain and the United States, visiting the national historic sites throughout Fundy's communities is not only an educational experience but also a fascinating one.
Fundy National Historic Sites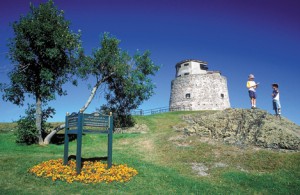 Carleton Martello Tower National Historic Site
Saint John, New Brunswick
Dating back to the War of 1812, Carleton Martello Tower played an important role in protecting this Loyalist City all the way up until WWII. See restored barracks and black powder magazine at this site as well as stunning scenes of the surrounding city and harbour. Admission charged. Open daily June 1-October 10, 10am-6pm.
Fort Anne National Historic Site
Annapolis Royal, Nova Scotia
Overlooking the Annapolis and Allain rivers, Fort Anne has been well preserved and offers its visitors a museum to explore in the officer's quarters and a gunpowder magazine – the oldest building in any Canadian National Historic Site (1708). Stroll through the fort and picture the time when soldiers occupied the land. Admission charged. Open May 15-October 15, 9am-6pm.
Fort Beauséjour National Historic Site
Sackville, New Brunswick
Make a stop at the provincial border to visit Fort Beauséjour, located at the head of the Bay of Fundy. Designated a National Historic Site in 1926, Fort Beauséjour reflects the time in history when the European imperial forces (France and Britain), and later Britain and the American colonies, fought for control of Eastern North America. Displays on site also tell of the area's natural and cultural heritage. Admission charged. Open 9:00am-5:00pm, June 1 – October 15.
Fort Edward National Historic Site
Windsor, Nova Scotia
Built by the British in 1750, Fort Edward is home to the oldest surviving blockhouse in Canada. Also, at this site are remnants of earth defense.
Fort Howe National Historic Site
Saint John, New Brunswick
Built in 1778 to protect the St. John River from American privateers and native unrest, Fort Howe consisted of eight cannons, barracks for one hundred and two blockhouses when the loyalists arrived in the Port City in 1783. In 1785, Fort Howe soldiers formed the city's first police force and the blockhouse became a prison. Today, Fort Howe provides its visitors with incredible views of the Saint John Harbour.
Grand Pre National Historic Site
Grand Pre, Nova Scotia
Just outside Wolfville, visit the Grand Pré National Historic Site, commemorating the Acadians and the Deportation of 1755. Featuring 14 acres of formal gardens, this site displays various statues and monuments, a 19th century blacksmith's shop and beautiful stained-glass windows. This 17th-18th century Acadian village is also the scenic setting for Longfellow's famous poem Evangeline: A Tale of Acadie. Admission charged. Open May 1-October 30, 9am-6pm.
Melanson Settlement National Historic Site
Port Royal, Nova Scotia
Situated near Port Royal, Melanson Settlement was established by Charles Melanson and his wife in 1664. The site contains the archaeological remains of a pre-Deportation Acadian community, reflecting the family communities settled by Acadians and the unique dykeland agriculture practised along the Annapolis River. No visitor services onsite.
Monument Lefebvre National Historic Site
Memramcook, New Brunswick
A memorial to its namesake and founder of the first French-language, degree-granting college in Atlantic Canada, Father Lefebvre, Monument Lefebvre also serves to symbolize the renaissance of Acadian culture and to commemorate the survival of the Acadians in the Maritimes following the Deportation of 1755 to present day. Visit the site's Acadian Odyssey Exhibit to join the journey of the Acadian people and discover their transformation from tragedy and exile to a renewed dynamic community. Situated in the Memramcook Valley, Monument Lefebvre instills an appreciation of the history, culture and accomplishments of the Acadian people in all of its visitors. Admission charged. Open June 1 – October 15, 9am-5pm.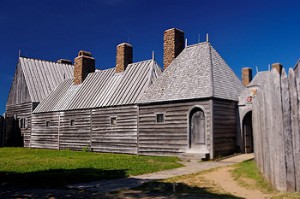 Port Royal National Historic Site
Port Royal, Nova Scotia
Meet costumed interpreters and observe interesting period demonstrations as you tour this reconstruction of the early 17th century French colony. Nationally significant because of its French culture, colonization, commerce and early Mi'kmaq settlers, Port Royal is a milestone in Canadian history. Colonized by Pierre Dugua sieur de Mons, Samuel de Champlain and François Pont-Gravé in 1605, after a failed attempt on St. Croix Island, Port Royal is one of North America's earliest settlements. Admission charged. Open May 15-October 15, 9am-6pm.
St. Andrews Blockhouse National Historic Site
St. Andrews, New Brunswick
Visit the St. Andrews Blockhouse and step back in time to the War of 1812, a conflict resulting from strained relations between Great Britain and the United States. This Blockhouse not only protected this seaside town, but the colony of New Brunswick against attack as New Brunswick was highly valued for its overland route to Canada. Following the War of 1812, the Blockhouse was used for military service in the Maine Boundary dispute of the 1840s and following the American Civel War of the 1860s. A Canadian National Historic Site since 1962, the Blockhouse was nearly destroyed by fire in 1993, however the community and Parks Canada worked together to restore the Blockhouse to the site it is today. Inside visit the barracks room and storage loft and also read the six illustrative interpretation panels on site to learn more about blockhouse use and daily life in a garrison town. Open June 1 – September 1, 9am-8pm and September 2-15, 9am-5pm. Admission charged.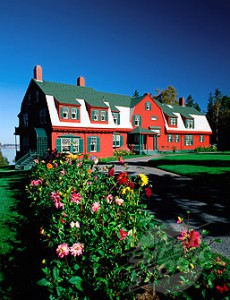 Roosevelt Campobello International Park
Campobello Island, New Brunswick
The park, established in 1964, is one of only two of its kind in the world. Covering 2800 acres, Roosevelt Campobello International Park is home to the Roosevelt Cottage, former summer retreat of President Roosevelt and his wife Eleanor. Learn the history of the island and its significance to the Roosevelt family. Also located in the park is Mulholland Point Lighthouse. Admission is free, but donations are accepted. Open daily late May through early October, 10am-6pm Atlantic. The last tour of the cottage is at 5:45pm Atlantic.
St. Croix Island International Historic Site
Calais, Maine/Bayside, New Brunswick
Located at the mouth of the Ste Croix River, an international boundary between Canada and the United States, Ste Croix Island is the location of North America's first significant European settlement. In the Summer of 1604, approximately 80 French colonists, led by Pierre Dugua Sieur de Mons and Samuel de Champlain established a colony on Ste Croix Island, however the first winter in "Nouvelle France" proved difficult. Due to a shortage of fresh drinking water and the lack of fresh fruits and vegetables, nearly half of the settlers fell ill to scurvy and died. After exploring more of the coast in 1605, it was decided that the group should settle in the Annapolis Basin at "Port Royale". Ste Croix Island is an International Historic Site; a monument to the beginning of Canada and the United States.
Other Maritime National Historic Sites
Alexander Graham Bell National Historic Site
Baddeck, Nova Scotia
While in Baddeck spend a few hours at the Alexander Graham Bell National Historic Site to learn the extent of Mr. Bell's contributions to the world of science and engineering, contributions that in turn affected the entire world. Set on 10 hectares of landscaped grounds overlooking the Bras d'Or Lakes and Baddeck Bay, discover models, replicas, artifacts, photos and films that detail the fascinating life of this famous inventor at this aptly named site. Among the many exhibits, find the Silver Dart, with which Alexander Graham Bell broke the world speed record on the Bras d'Or Lakes. In addition to learning about Mr. Bell's well-known invention of the telephone and his role in teaching the deaf, including Helen Keller, to speak, become aware of his numerous lesser-known inventions, such as the first seaplane. Also, as so much of Mr. Bell's work involved children, a section of the site has been set aside for kid's experiments, puzzles and kite-making workshops. Not only will you learn a lot with a visit to the Alexander Graham Bell National Historic Site, but also you will definitely enjoy the time spent here. Open year round. June, July and August open 9am-6pm.
Canso Islands/Grassy Island Fort National Historic Site
Canso, Nova Scotia
Grassy Island, one of the Canso Islands, was once a thriving community of fishermen and merchants. Today the island remains a symbol of the important role the fisheries played in international trade and commerce during the early 18th century. Visit the reception centre to view an audio-visual presentation and life-size dioramas of an era tavern, merchant's home and military officer's residence, hike the interpretive trail that connects eight designated sites or simply visit the island for a picnic overlooking the sea. Grassy Island is accessible by boat service from Canso and admission is charged. Open daily June 1-September 15, 10am-6pm
Fortress of Louisbourg National Historic Site
Sydney, Nova Scotia
This national historic site is a recreation of a town 250 years ago. With over fifty buildings and strong fortified walls, the Fortress of Louisbourg is the largest reconstructed 18th century French fortified town in North America. Upon your arrival at the fortress you will notice the impressive walls and majestic gates. Over one hundred costumed animators recreate the lives and activities of Fortress residents. Enjoy 18th century cuisine in period restaurants, lively taverns and more. Admission: $13.50/adult, $11.50/senior and $6.75/youth. Full services available May-October.
George's Island National Historic Site
Halifax, Nova Scotia
A small island in the middle of Halifax Harbour, George's Island played an important role in the harbour's defence system for over 200 years. All George's Island is currently closed to the public, Park's Canada is preparing this heritage site for future visitation.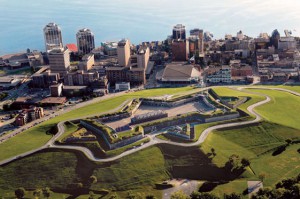 Halifax Citadel National Historic Site
Halifax, Nova Scotia
The Halifax Citadel offers its visitors a chance to experience British military life of the 1800's. Onsite there are a variety of things to do from visiting the Army Museum to watching a presentation entitled the 'Tides of History' to sitting in a sample classroom and learning about the history of the Citadel. One of Canada's most visited national historic sites. Admission charged. Open May 7-October 31, 9am-5pm. (Admission includes parking.)
Marconi National Historic Site
Sydney, Nova Scotia
Take half an hour to visit the site where Guglielmo Marconi initiated the "age of global communications" in December of 1902 by sending an official wireless message across the Atlantic Ocean. Visit the "Wireless Hall of Fame", see photographs, artifacts and models and stroll the interpretive trail. No admission fee. Open June 1-September 15, 10am-6pm daily.
Pier 21 National Historic Site
Halifax, Nova Scotia
This recently restored National Historic Site won the award for Best New Attraction in Canada in 2001. Hear the story of the one million Canadian immigrants who arrived at Pier 21 between 1928 and 1971 as you explore this significant component of Canadian heritage. The various interactive exhibits, multimedia presentations and activities on site are appropriate for all ages and describe the emotional experiences of the immigrants, war brides, displaced children and Canadian military troops who passed through the doors of Pier 21. Admission charged. Open 7 days a week May 1-November 30, 9:30am-5:30pm. December 1-March 31 closed on Sunday and Monday.
Port-la-Joye/Fort Amherst National Historic Site
Rocky Port, Prince Edward Island
Home of the Island's first European settlement, Port-la-Joye was settled by the French in 1720. Overtaken by the British in 1758, Port-la-Joye was destroyed and Fort Amherst was created. Visitors to this site today can view the ruins of the British fort, view interpretive displays and have a picnic overlooking the rolling countryside and Charlottetown Harbour. This national historic site can be found just 20 minutes from the province's capital city in Rocky Point, PE. Admission charged. Open May-September.
Province House National Historic Site
Charlottetown, Prince Edward Island
The birthplace of Confederation and the seat of Prince Edward Island's provincial legislature since 1847, Province House National Historic Site is the second oldest active legislature in Canada. A national landmark, the past and the present blend seamlessly together at Province House. Visitors can learn about the history of the site and the current Legislative Assembly through guided tours, displays and an audio-visual presentation. Open daily June-October 10, 8;30am-5pm. Open Monday-Friday October 12-May, 9am-5pm.
York Redoubt National Historic Site
Halifax, Nova Scotia
Sitting above Halifax Harbour, York Redoubt National Historic Site was an important part of the Halifax Defence Complex from the late 18th century into the 20th century. Following an outbreak of war between Britain and revolutionary France, the first batteries were constructed to protect Halifax when French warships were spotted in the Western Atlantic in 1793. Throughout the 19th century York Redoubt, due to its location, played an important communication role, as did the Halifax Citadel, in using flag signage to notify each other of ship's movements near the harbour. During WWI York Redoubt barracks were used for assigned infantry and for troops waiting to go overseas and in WWII the site served as a nerve centre for harbour defences. Today people visit York Redoubt to enjoy the fresh air and panoramic views of Halifax Harbour, its surrounding coastline and the open Atlantic Ocean. Open year-round.
Other Historic Sites
n addition to the historic sites of national significance that line the shores of Fundy, there are numerous other historic sites of local interest that tell of legends and wars and offer visitors many fascinating cultural anecdotes.
Fort O'Brien
Machias, Maine
Also while in the Machias area, perhaps visit Fort O'Brien (aka Fort Machias), overlooking Machias Bay. The fort was originally built in 1775, but was destroyed by the British later the same year. In 1777 the site was refortified, only to be destroyed again by the British in 1814. The earthworks are well preserved at Fort O'Brien and it is a great spot for a picnic.
Minister's Island
St. Andrews, New Brunswick
Named for Loyalist Anglican minister Reverend Samuel Andrews, who settled the island in 1786, Minister's Island became the personal summer retreat to Sir William Van Horne in 1890. Van Horne, who was responsible for much of Canada's rail system stretching from coast to coast, built one of the country's finest private residences of this small island. The large 50-room home, constructed of quarried sandstone, is named Covenhoven after Sir William's father and includes a massive drawing room with an original pool table. Two-hour guided tours are available at a small cost and include a visit to Covenhoven, a tour of the bathhouse with its tidal swimming pool, a tour of the livestock barn, interesting facts and a stop on Shea's Hill for a magnificent view of the Passamaquoddy Bay. There is one catch: You must have your own vehicle and the island can only be accessed at low tide!
Old Loyalist Burial Ground
Saint John, New Brunswick
The Loyalist Burial Ground was established after the landing of the United Empire Loyalists in 1783 and was closed as a cemetery in 1848. Today it is a memorable garden with tree-lined pathways and beautiful flowerbeds. Throughout the grounds find statues of the Canadian beaver, depicting the "hard work, enterprise and tenacious resolve of the city's founders and those who followed". Located in the centre of the city, the Old Loyalist Burial Ground is a beautiful spot to sit, relax and take in the city.
Patridge Island
Saint John, New Brunswick
One other interesting historic site in Saint John is Partridge Island – the first quarantine station in Canada and home to the world's first foghorn, invented by Robert Foulis in the 1850's. Used as a quarantine station as early as 1785, the largest arrival of patients/immigrants occurred throughout the 1840's during the Great Famine of Ireland (otherwise known as the Potato Famine). Over 4500 sick people arrived on Partridge Island, however the hospitals could only take in 200 at a time. There are no records of the dead and buried, although it is estimated that as many as 2000 Irish died during quarantine. A Celtic Cross on the island, and a smaller version on Prince William Street, commemorate the Irish immigrants who lost their lives to typhus either on their passage across the Atlantic Ocean or on Partridge Island. Both a National and Provincial Historic Site, public access to Partridge Island has not been allowed since 1993. Today, one lighthouse remains on the island and it can be seen from various points in the Saint John Harbour. Perhaps visit the Irving Nature Park for a look at historic Partridge Island.
St. Mary's Church
Clare, Nova Scotia
St. Mary's Church, located in Church Point, is one of the finest and most celebrated of Acadian churches and is considered an engineering marvel. Built between 1903-1905, St. Mary's was built in the form of a cross and is the tallest and largest wooden church in all of North America.
Three Sisters Lamp (aka Trinity Lamps)
Saint John, New Brunswick
The first lamp, an oil lamp, was erected in St. Patrick's Square at the end of Prince William Street in 1842 and then replaced by a gas lamp in 1847. Then two years later in 1849, a post containing three red gas lamps, visible for three miles seaward, was stationed at the end of Prince William Street. If the three red lamps appeared individually, sailors would know they were heading straight into the harbour, however if only one or two could be seen sailors knew they needed to alter their course.