Experience the romance of the grape along Nova Scotia's Evangeline and Glooscap Trails. Visit the province's growing wine region to not only enjoy fantastic wines but to also experience the region's unique character.
Wolfville, seen by some as the cultural and intellectual centre of the Annapolis Valley, is quickly becoming recognized for the vineyards and wineries that sit on the town's outskirts. In Grand Pre, stroll along the cobblestone walkways and beautifully landscaped ground and enjoy the relaxed atmosphere. Perhaps take a "Tour and Tasting" to learn more about the vineyard and winery and conclude with a sample of an award-winning wine. Other fine products produced at this Nova Scotian winery include ice wine, apple wine and the famous Stutz cider.
Nearby, in Falmouth, visit a vineyard and winery set on an original Acadian village. Take a tour of the vineyard and cellar before your wine tasting. Typical wines produced here include white, read, ice and Riesling. This small, family-owned vineyard also hosts the Harvest Wine Festival held each October. These are just two of the four wine producerss located along the Evangeline Trail.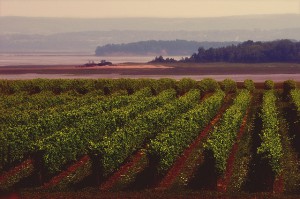 Within the Glooscap Trail, discover Nova Scotia's premium fruit wine producer and the first all fruit winery in the province. Relax on thel licensed patio and enjoy a glass of sangria, winter wine or apple, blueberry, cranberry, pear, raspberry or strawberry wine. Tours of the farm and winery are also available upon request.