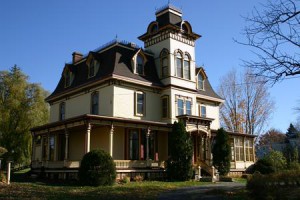 "The Birthplace of Hockey" is Windsor, Nova Scotia's claim to fame. A bustling little town featuring a number of great attractions, including a heritage hockey centre, Windsor is located at the eastern gate of the picturesque Annapolis Valley.
Population: 6,418
Community Links:
http://www.town.windsor.ns.ca/
http://www.birthplaceofhockey.com/
http://www.gameofhockey.com/hockey-evidence.html
Fort Edward National Historic Site
Built by the British in 1750, Fort Edward is home to the oldest surviving blockhouse in Canada. Also, at this site are remnants of earth defense.
Howard Dill Enterprises
Found in Windsor, NS, Howard Dill Enterprises is a quirky attraction and an interesting alternative to the various historic sites in the region. Famous for producing pumpkin seeds that grow into some of the world's largest pumpkins, including the current world record holder at 1385lbs, "Dill's Atlantic Giant" is the "World's Largest Pumpkin Variety". The best time to visit Howard Dill Enterprises is late September through early October when pumpkins are at their largest.
Haliburton House Museum
Haliburton House Museum was once home to Thomas Chandler Haliburton, North America's first widely-recognized writer of humour. Haliburton's character "Sam Slick" made such sayings as "its raining cats and dogs", "quick as a wink", "facts are stranger than fiction" and "early bird gets the worm" famous throughout the world. Although many of the original contents were auctioned, the house, as it is today, is decorated with period furnishings including some of Haliburton's possessions, such as his desk. Thomas Haliburton was born and lived in Windsor, NS.
Shand House Museum
Constructed by Clifford Shand for his bride in 1891, Shand House was build with all the modern amenities of the time including indoor plumbing, central heat and electric light. Inside the house also discover beautiful woodwork and furniture crafted at the Windsor Furniture Factory, which was owned, in part, by Shand's father. A terrific example of the upper-middle class Nova Scotia lifestyle in the late 19th century, displays within Shand House reflect Windsor's history as a major shipping port. Open June1-October 15. Admission charged.
Windsor Hockey Heritage Centre
It is said that Canada's winter game, ice hockey, was born in Windsor, NS. Visit the Windsor Hockey Heritage Centre to learn about the beginning of the game, to see pictures of players and teams from the early years of hockey and to view artifacts that include original wooden pucks, handmade sticks, stock skates and early forms of protective gear. Open year-round. Donations are accepted.
Mermaid Theatre of Nova Scotia
Presenting unique adaptations of children's literature, Mermaid Theatre performances are ideal for young and family audiences. Open year-round. Donations accepted.
Churchill House and Marine Memorial Room
Built by Ezra Churchill, of E. Churchill & Sons Shipyards, for his son as a wedding present in 1860, Churchill House is located in Hansport, NS, less than ten miles from Windsor. Take your time to stroll through the home and note the fascinating details within each room. The Marine Memorial Room, the mansion's former nursary, was established to commemorate the seafaring era. Open June 15-August 31. Donations accepted.
West Hants Historical Museum
Set in a former Methodist church, the West Hants Historical Museum's mission is to preserve and protect the community's history and culture. Displays within the museum tell tales of West Hants, one of Nova Scotia's oldest communities, including its past household, industrial and shipping technologies. In addition to these displays, the West Hants Historical Museum is home to an extensive library and archives. Open June 22-September 4, Tuesday-Saturday between 9am and 5pm. Donations accepted.