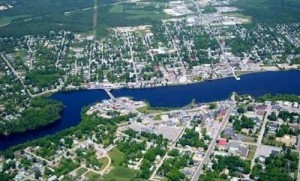 The first stop in Atlantic Canada, St. Stephen shares an international border with Calais, Maine. Although many people simply drive through St. Stephen enroute to other destinations, Canada's Chocolate Town is home to many interesting shops, natural woodland hiking trails and, of course, the popular Ganong Chocolatier – all worth exploring. As you cross the border do not forget to set your watches to the appropriate time zone!
Population: 4667
Industries: Candy and Chocolate Manufacturing / Particleboard Manufacturing
Community Links:
http://www.chocolatetown.ca/
http://en.wikipedia.org/wiki/St._Stephen,_New_Brunswick
Charlotte County Museum
Glimpse into life as it was in Charlotte County between the late 18th century and early 20th century as you explore the Charlotte County Museum. The building, constructed in 1864, was the former residence of James Simpson Murchie, a well-respected lumberman who helped establish local industries and transportation facilities. In 1928, Emma Eaton, one of Murchie's daughters, donated her family home to the Town of Milltown. For 45 years the Murchie home was used as the Town Hall and in 1980 it opened its doors as the Charlotte County Museum.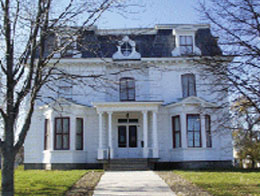 Many great exhibits within the museum tell of the immigration of early settlers – Loyalists, Scots and the Irish – and the relationship with the American North East and others give tribute to prosperous industries of the past. Once a world-renowned lumbering and shipbuilding area, find many interesting items from this era within the museum as well as items from Canada's second largest Cotton Mill, the Soap Factory and Ganong Bros Candy Factory. Another fascinating exhibit showcases early Chinese porcelain, furniture and temple doors that were brought to the region by Captain Thomas Wheelock during the height of the Chinese trade in the 1850s.
Other exhibits of interest include three mahogany tables built by celebrated St. Stephen cabinetmaker John Warren Moore, the Country Kitchen, Tool Shed, Charlotte Country School Room and displays of 19th century handworks. The Charlotte County Museum is open June 1-September 1, 9:30am-4:30pm.
The Chocolate Museum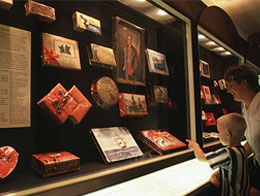 A not-for-profit organization, The Chocolate Museum is located in Downtown St. Stephen – only three blocks from the United States border – in the original Ganong candy factor, next door to the Ganong Chocolatier (which you may wish to visit next to purchase delectable hand-dipped chocolates).
First opening in June of 1999, The Chocolate Museum presents the story of James and Gilbert Ganong, who started this popular candy-making business in the late-1800's. Today, Ganong's is the oldest family-owned candy-making company in the country. Step inside the old factory to discover hands-on exhibits, interactive computer displays and collections of historic chocolate boxes and antique candy-making equipment. As a very important part of town's heritage, St. Stephen was officially registered as "Canada's Chocolate Town" in 2000 and hosts Chocolate Fest at the beginning of each August.
Summer Hours (June 15-August 15): Monday-Saturday, 9am-6:30pm; Sunday, 1pm-5pm. Spring and Fall Hours: Monday -Friday, 9am-5pm. Admission charged.