Each community along the Bay of Fundy is shaped by the phenomena that line their shores in its own unique way.
Each offers wonderful places to go and amazing things to do. They are as individual as the height of the tides as you travel toward the head of the Bay. Each neighbourhood has developed by their history, the way they make their living, and whether they are located in Maine, New Brunswick or Nova Scotia.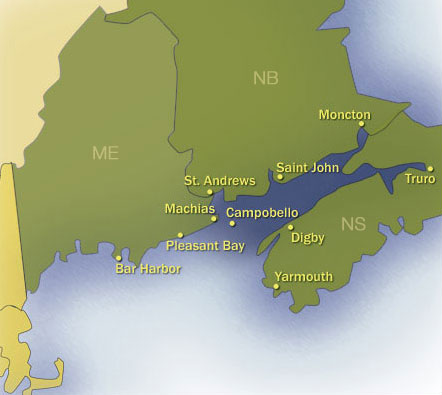 Whether the resort town of Bar Harbor, the Loyalist city of Saint John, the fishing village of Digby or the Acadian settlement of Port Royal, all show the effects of living under the influence of the power of the Bay. And each has many fun, interesting and unique things to do. Explore our website to find out everything that the Bay of Fundy areas of Nova Scotia, New Brunswick and Maine have to offer: places to go, people to see and things to do!