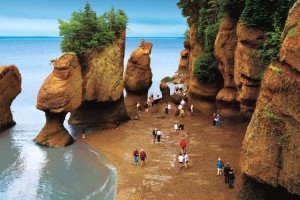 We have mentioned that extraordinary vertical variance of the Bay of Fundy's great tides in many of our reasons to visit Fundy. Near the head of the Bay, towering sea cliffs and sea stacks are exposed at low tide with a vertical variance that can exceed 50 feet or 15 metres.
The horizontal variance between low and high tide is equally astonishing – up to 3 miles or 5 kilometers. You do, however, have to be careful when you explore the exposed ocean floor because the water can rush back in at over 10 meters per minute! As a general rule, the ocean floor is accessible for exploring three hours before and three hours after low tide.
Therefore during Fundy's low tide cycle you are literally able to walk, and explore, the ocean floor.
Ground covered only a few short hours earlier is revealed and the potential for finding newly exposed treasures, such as fossils, sea glass and semi-precious stones, make it easy to spend hours combing the shores.
This was the 52nd (and last) article in our "52 Reasons to visit the Bay of Fundy" series. Click here to check out the full list of reasons to visit the Bay of Fundy!