This is the second part of an article written by Paul Gaudet – an avid hiker, snowshoer and vice president of the Outdoor Enthusiasts Club of Moncton. Click here if you've missed part 1 »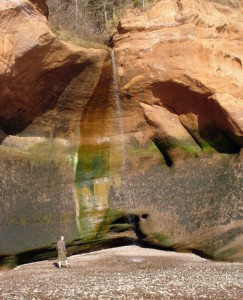 Our journey in search of hiking spots along the Fundy system continues around to the other side of the Minas Basin to Economy and its three or four trails in and around its famous falls. There is probably at least 30 kilometers/20 miles of scenic wilderness type hiking there. Next is Five Islands with its unique National Geographic worthy geology. The hiking trails in and around the provincial park are quite nice and deserve to be hiked. Noteworthy in this area is the annual Not Since Moses run/walk event which attracts 650 participants in a fun 5 or 10 kilometer jaunt out on the beach and mud flats.
Onward to the Parrsboro area and you will find some interesting shorter hikes in and around this coastal Minas Basin town. Wards Falls could be your first stop just a few kilometers out of town, a 45 or 50 minute (one way) hike will take you in to the double falls carved out of what I believe is a geological fault line. Next you can hike to Two Rivers and Wasson's Bluff where a hike along the beach will afford you a treasure trove of fossils.
After that you can make your way past the well known Ottawa House on a dead end road to find your way to the hike up to Cape Sharp with its lighthouse and steep rocky cliffs overlooking the Minas Channel and Black Rock. This is the spot where a turbine has been sunk to try and harness the immense power of the current and tides in the channel. An interpretive centre and viewing area is currently being built nearby. Another area to hike is up to Partridge Island which is near Ottawa House at the end of a semi-circular beach. The hour or so hike will take you up and back to a viewing platform overlooking the Minas Channel and Basin and has a huge detailed nautical map of what you are seeing on both sides and up and down the channel, complete with currents and depths.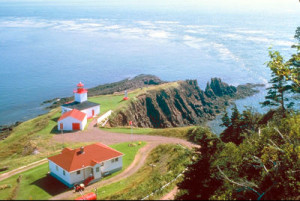 If you go the other way from Cape D'Or you will do a loop and come out on some spectacular vistas looking down on the driftwood laden beach and community of Advocate Harbour with the cliffs of Cape Chignecto Park in the distance. When you get back to the lighthouse you have the chance to stay in the keeper's house or maybe just dine on the delicious and always different food available in the restaurant with a view.Leaving Parrsboro will take us further along to Diligent River, Port Greville and on to Spencer's Island and finally Advocate Harbour and Cape Chignecto Provincial Park. In Advocate you will find the lighthouse and hiking trails around Cape D'Or. You can hike out and away from Cape D'Or on an amazing trek through an ethereal forest to a high basalt cliff edge overlooking the Basin and a lonely flower pot rock below. Then you come down from the hills to a beach overlooking Spencer's Island from where the famous ghost ship the Mary Celeste was launched.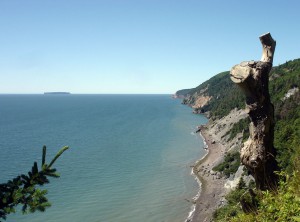 In West Advocate you will come to the entrance and interpretive centre at Cape Chignecto Provincial Park at Red Rocks. This park is a hiking paradise that extends along the shore to Cape Chignecto then around to follow the coastline of Chignecto Bay and then inland a bit to the old abandoned settlement of Eatonville and another interpretive centre at the Three Sisters. The Three Sisters are sea stacks that are laid out below you from the hiking trail, and are so impressive, especially when the light is right. You can go down to the beach at low tide to get a little more up close and personal with the girls. When you get back to the trail at Eatonville it will lead you about 14 kilometers/9 miles back to the centre at Red Rocks. The full loop minus the trip to see the sisters is about 40 kilometers/25 miles and there are some wicked hills. You might plan to take 2.5 to 3.5 days to do it all, but you can do pieces of it as day hikes. If you enjoy hiking you will be impressed with this trail, it is one of the very best in the Maritimes.
One last location on our trip on the Nova Scotia side of the bay is the Joggins Fossil Institute where you can hike along the entrance to the Cumberland Basin across from Cape Maringouin on the New Brunswick side, and only a number of kilometres across to my hangout at the Hopewell Rocks. You can also get an education on Carboniferous or Coal Age fossils from the staff of experts at the new interpretive centre, and then you can go out and look for your own, which you absolutely cannot bring home with you. In fact I think I saw machine gun turrets on the top of the cliffs ready to fire warning shots should any type of indiscretions occur.