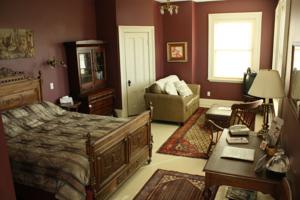 Innkeepers in the Fundy region pride themselves on providing their guests with warm hospitality and well-appointed accommodations in a relaxed, tranquil environment.
Whether you prefer to stay in a country, historic or classic inn or be welcomed into a local bed and breakfast, you can be guaranteed an enjoyable, comfortable stay. Over the years we've heard about a few special locations around the Bay of Fundy that we'd like to share with you.
Europa Inn St. Andrews, New Brunswick
Only steps away from the town's square, the water's edge and many interesting shops, Markus & Simone Ritter, owners of Europa Inn, offer their guests modern accommodations, luxurious spa treatments and fine dining.
Treadwell Inn St. Andrews, New Brunswick
The Treadwell Inn, built in 1820, offers its guests extraordinary views of the Passamaquoddy Bay, beautifully appointed, luxurious guest rooms and warm hospitality. The Treadwell Inn in conveniently located on Water Street, just a short stroll away from the Market Wharf, great restaurants and fun attractions.
Historic Homeport Bed & Breakfast Saint John, New Brunswick
The Homeport Historic Bed & Breakfast is set high on a hill offering an incredible view of the Bay of Fundy and the City of Saint John. The buildings were constructed in 1858 for a prominent shipbuilding family and have been magnificently restored. During your stay enjoy comfortable accommodations, delicious breakfasts and the heartfelt hospitality of innkeepers Ralph & Karen Holyoke.
Inn on the Cove Saint John, New Brunswick
Enjoy the warmth, charm and friendly environment on Inn on the Cove, set on the edge of the phenomenal Bay of Fundy. Watch the sunrise, take a tranquil stroll on the beach or be inspired while exploring nearby woodland trails. Be welcomed by Ross & Willa Mavis and their staff and perhaps enjoy fine dining at the Tide's Table Dining Room or be pampered at the onsite the spa and salon.
Tidal Watch Inn St. Martins, New Brunswick
Just 150 feet from the shores of the Bay of Fundy in St. Martins discover the Tidal Watch Inn. This century-old country inn, owned by Rudy & Kathy Zinn, features luxuriously-appointed guest rooms and breathtaking views of harbour. In the evening retire in complete comfort as you fall asleep to the soothing sound of the Fundy's surf.
Falcon Ridge Inn Alma, New Brunswick
Set on a peaceful hilltop overlooking the Bay of Fundy and the picturesque, seaside Village of Alma, Falcon Ridge Inn offers its guests ensuite double whirlpool baths and in-room fireplaces. In the morning allow the Colpitts' to serve you a full country breakfast.
Parrsboro Mansion Bed & Breakfast Parrsboro, Nova Scotia
Be treated to warm hospitality while staying with the Schoene family at the Parrsboro Mansion Bed & Breakfast. High quality accommodations set in an inviting atmosphere. Enjoy comfortable guest rooms, an outdoor heated pool and spectacular scenery.
Blomidon Inn Wolfville, Nova Scotia
Blomidon Inn is restored 19th century sea captain's mansion featuring comfortable guest rooms, an elegant dining room and beautiful Victorian gardens.
Harmony Bed & Breakfast Digby, Nova Scotia
Situated on Digby's waterfront, Wayne and Heather offer true Maritime hospitality, clean, modern accommodations and hot breakfasts to guests of both their Harmony bed and breakfast and suites.
This was the 43rd article in our "52 Reasons to visit the Bay of Fundy" series. Photographer's Paradise was last week's reason to visit the Bay of Fundy. Don't forget to mark your calendar or use our RSS feed so you won't miss the 44th reason next week!