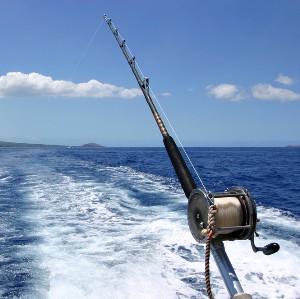 Set out on the Bay of Fundy from Digby, NS, Campobello Island, NB or St. Andrews, NB (spearsfishingandcharter.com) on a deep sea fishing adventure. Cast your line (gear and bait provided) and reel in the catch. Typical sport fishing excursions last between three and four hours.
Popular catch in the Bay of Fundy include mackerel, pollack, flounder, cod, haddock, halibut and the porbeagle shark.
Porbeagle sharks, a mackerel shark, reside in oceans throughout the world but like the cold waters of the North Atlantic, including the Bay of Fundy. Averaging 2.5m or 8.2ft in length and weighing approximately 135kg or 300lbs, the porbeagle shark is a popular game fish.
As an added bonus, while deep sea fishing on the Bay of Fundy, you will most likely have an opportunity to view a variety of marine mammals (whales, porpoise and seals) and seabirds and learn a bit about the history of the fishing industry in the Fundy region.
This was the 30th article in our "52 Reasons to visit the Bay of Fundy" series. The 30+ Scenic Golf Courses along the Bay of Fundy were last week's reason to visit the Bay of Fundy. Don't forget to mark your calendar or use theRSS feed so you won't miss the 31st reason next week!