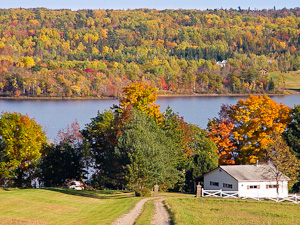 As the leaves begin to change color along the Fundy coast it seems very appropriate to add fall foliage and leaf watching to our list of 52 Reasons to Visit the Bay of Fundy. This time every year people set out in their cars, campers or on group motorcoach tours to witness the transformation of leaves from their spring and summer greens to beautiful yellows, oranges and reds.
"Leaf watching" along the Fundy coast has been a long-kept secret compared to similar activity that takes places throughout the New England states.  Last fall we posted an article titled "5 Reasons Why the Bay of Fundy Beats New England Fall Foliage". Quickly, these reasons included:
5.  Parks – The untamed and natural beauty found in Fundy's numerous national and provincial parks.  Great for leisurely strolls and an invigorating hikes.
4.  Whales – From late August through early October, during the peak fall foliage period, the Bay of Fundy hosts a large portion on the remaining North Atlantic Right Whale population.
3.  Birding – An important stopping point along the Atlantic Flyway, the Bay of Fundy is the full time or seasonal home to over 360 species of birds.
2.  Maritime Hospitality – Enjoy the warm and welcoming hospitality that Maritimers are famous for while traveling throughout the Fundy region.
1.  No Crowds – Unlike many fall foliage tours throughout New England, the communities and highways surrounding the Bay of Fundy are far less crowded, allowing visitors to the region to sit back and discover the enjoy of scenic driving.
We welcome you to come and explore Fundy's fall foliage, to witness the ebb and flow of some of the highest tides in the world and enjoy spectacular scenery enhanced by leaves at all stages of transformation.
This was the 38th article in our "52 Reasons to visit the Bay of Fundy" series. Sea kayaking was last week's reason to visit the Bay of Fundy. Don't forget to mark your calendar or use our RSS feed so you won't miss the 39th reason next week!