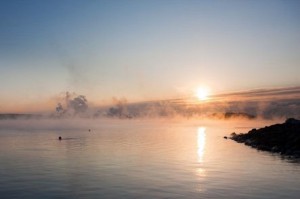 Fog, created by contrasting water and air temperatures, provides natural air conditioning on otherwise scorching days. Along the Fundy coast July and August are generally the warmest months, with an average temperature of approximately 20ºC or 68ºF.
While the Bay of Fundy is probably among the foggiest regions in the world, not every day is foggy or at least not foggy all day long. On such grey days, however, it is easy to escape the Fundy's thick fog banks by traveling just a few miles inland, where beautiful sunshine and warmer temperatures await. Inland temperatures during the throughout the summer months can climb easily to 25ºC or 77ºF and beyond.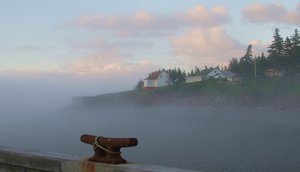 Visitors to our region from places like Florida, Texas and California have expressed how refreshing a foggy day of the Bay of Fundy can be.
As the fog can roll in relatively quickly, or burn off just as fast, the key to planning your day's apparel while in Fundy is to remember to dress in layers. Be sure to bring a sweater with you on your day adventures and excursions that can easily be added and removed as required by Fundy's fluctuating weather.
Saint John (New Brunswick), the place where they invented the fog horn, is home to the annual "Fundy Fog Festival". An music festival held on the Market Square Boardwalk, 2011 marks the 9th year for the event. Performers this year include Tune in Tokyo (August 12) and Gordie Tentrees (August 13).
This was the 27th article in our "52 Reasons to visit the Bay of Fundy" series. The Fundy Festivals were last week's reason to visit the Bay of Fundy. Don't forget to mark your calendar or use the RSS feed so you won't miss the 28th reason next week!