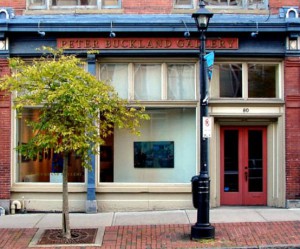 In addition to traditional souvenir shops, the shores of Fundy host terrific artisan studios and galleries.
If art is a must-see on your getaway, be sure to include the City of Saint John on your Fundy itinerary. Home to a warm and vibrant art community, Uptown Saint John boasts over ten galleries with its small, walkable city core.
Handworks Gallery on King Street showcases works of art from over 80 New Brunswick artists in a variety of mediums. The Peter Buckland Gallery exhibits everything from traditional to contemporary art and New Brunswick features features New Brunswick, Canadian and International art. The John Hooper sculptures located throughout the city centre are also very popular with tourists and locals and make for interesting photo souvenirs.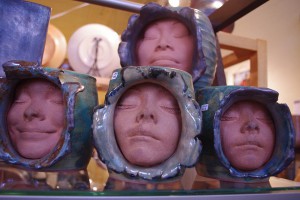 Gallery hops are hosted several times throughout the year… perhaps one will coincide with your visit!
In smaller towns and communities surrounding the Bay of Fundy, such as Annapolis Royal, Hillsborough and St. Andrews, stumble upon a plentitude of local talent. Pottery, metal sculptures, fabric art, stained glass, watercolour, photography, handmade soaps, locally-crafted jewellery and more.
You never know what treasures you may find!
This was the 49th article in our "52 Reasons to visit the Bay of Fundy" series.The Diverse Coastline was the previous reason to visit the Bay of Fundy. Don't forget to mark your calendar or use our RSS feed so you won't miss the next reason to visit the Bay of Fundy!