Looking for a resort holiday with a new twist? The Bay of Fundy offers its guests a traditional resort holiday in a non-traditional atmosphere. In New Brunswick stay in Canada's oldest seaside resort town, St. Andrews by-the-Sea, at The Algonquin Resort. In Digby, Nova Scotia, relaxing is made easy at The Pines Resort and in Maine discover the picturesque resort community of Bar Harbor.
St. Andrews by-the-Sea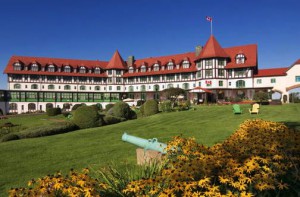 One of the best preserved examples of colonial heritage in North America, St. Andrews by-the-Sea (New Brunswick) is a National Historic District and Canada's Oldest Seaside Resort Town. Many of the wealthy and powerful families have made St. Andrews their summer home in years past including those of Sir Samuel Leonard Tilley, Sir James Dunn and Sir William Van Horne. Explore Water Street, the town's main street, to find many interesting shops and great restaurants as well as the town wharf from which a variety of vessels set out on the Bay in search of whales.
While visiting St. Andrews by-the-Sea stay at the historic, seaside Algonquin Resort, described as a "Castle by-the-Sea" and "where old world charm meets modern luxury". The Algonquin is situated high above the town, overlooking the Passamaquoddy Bay and is home to an award-winning golf course, a luxurious spa, great dining, an outdoor heated pool, tennis courts and a private saltwater beach.
During your time in at the Algonquin and in St. Andrews you will experience true maritime tradition and hospitality.
Digby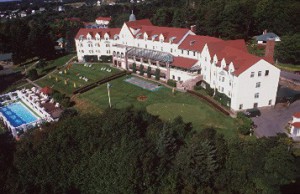 The Town of Digby, Nova Scotia was settled in 1783 and is named after Admiral Robert Digby, one the United Empire Loyalists who helped settle seaside community. Digby offers its visitors dramatic scenery and phenomenal seafood – particularly the world-famous Digby scallop.
At the Digby Pines Golf Resort & Spa guests will enjoy the crisp ocean air and sensational views of the Annapolis Basin. In addition to being home to a challenging 18-hole golf course and an spa featuring unique treatments, The Pines features a heated outdoor pool, wooden hiking trails and tennis and croquet. For your dining pleasure, savour a delicious meal at Churchill's Restaurant or the 19th Hole. A Signature Resort, the Pines is the ideal location for your stay in Digby.
Bar Harbor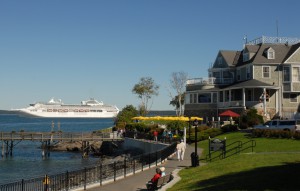 The resort community of Bar Harbor is found on Mount Desert Island in Downeast Maine. Surrounded by Acadia National Park on three sides and the Frenchman Bay on its fourth side, Bar Harbor is home to a wide array of shops, galleries, activities, restaurants and high-end accommodations. Bar Harbor is renowned for being inspirational and relaxing as well as for its culture, artistry and diversity of outdoor activities.
If you enjoyed this 21st article in our "52 Reasons to visit the Bay of Fundy" series then we recommend you check out the overview of all the articles in this series. You might also want to use our RSS feed so you won't miss any articles in the future!