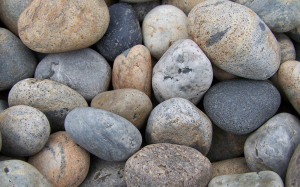 It's 2011 and we'll start the new year with the first article in our new "52 reasons" series. As you know, this year the Bay of Fundy might get elected as one of the new Seven Wonders of Nature, which is why we'll reveal one enticing reason to visit the Bay of Fundy every week, for an entire year! First up: Rockhounding!
The Bay of Fundy is a true rockhounder's paradise. As Fundy's giant tides erode the towering sea cliffs and wash the shores, many interesting rocks, zeolites and semi-precious stones are revealed daily.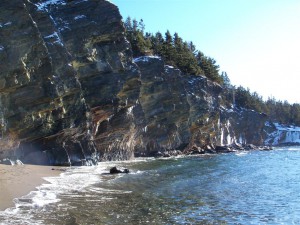 Along the shores near Parrsboro, Nova Scotia, mineral treasures such as amethyst and agate are common finds. Parrsboro is also home to the Fundy Geological Museum where visitors have the opportunity to examine mineral terminals as well as to view some of the oldest dinosaur bones in Canada and the world's first reptiles.
In New Brunswick's Fundy National Park discover two tale-telling rock formations. While the beige and grey rocks found around Owls Head are made of sandstone, the volcanic rocks at Point Wolfe tell of the shifting of the continents and are comprised of white quartz veins, swirling folds and criss-crossing fractures. The oldest rocks in the park can be found at Point Wolfe. The Caledonia Highlands, which date back to the Ice Age, are also found in Fundy National Park.
Stonehammer Geopark
Recently, in the Fall of 2010, a region surrounding Saint John, New Brunswick, became the first UNESCO recognized Geopark in North America. The Stonehammer Geopark extends east from the Fundy Trail Parkway to west at the Lepreau Falls and continues inland as far as Norton, Hampton and Grand Bay-Westfield.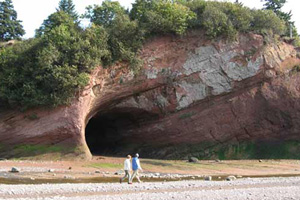 Stonehammer's tagline is "A Billion Years of Stories" and this couldn't be more true. From an observation deck along Saint John's Harbour Passage, visitors can look across the Reversing Rapids gorge to see two continents that collided thousands of years ago. Looking across the gorge, the rocks on the left are from the Cambrian period (approximately 500 million years old) and the light grey rocks on the right are from the Precambrian age (750 million-1.2 billion years old).
Stonehammer contains rocks from nearly all of the geologic eras except the Tertiary and Jurassic periods. Other Stonehammer Geopark attractions include the Irving Nature Park, Rockwood Park, Dominion Park, Tucker Park, Fort Howe and King Square West. There are over 200 possible sites of geological significance in this 2800km2 zone.
You might also want to check out the Top 10 geological attractions in the Bay of Fundy. This article is part of our "52 Reasons" series, so check out the next reason: Loyalist Heritage. We also encourage you take a look at the overview of all the articles in this series and to use our RSS feed so you won't miss any further articles!