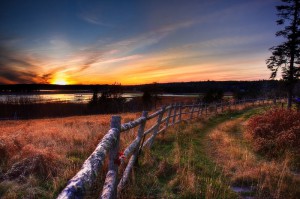 If it's a holiday of solitude you're seeking, the Bay of Fundy also provides its visitors with the opportunity to hear nothing but the a few birds singing soft melodies, waves crashing on to the shores and the wind rustling through the countryside.
Escape the hectic, urban lifestyle and the humdrum of daily routine to the solitude of the Bay of Fundy. Relax and enjoy the serene ambiance and breathtaking vistas to feel refreshed and alive.
The Bay of Fundy's coastline is sculpted daily by the washing of the world's highest tides, creating some of the country's most magnificent scenes and stunning panoramas. Images of quaint fishing villages, historic streetscapes, weathered lighthouses, luscious wilderness and the deep-blue waters – all framed by an ever-changing landscape – will remain with you for many years to come.
Adding to the already stunning and varied scenery found along the Bay of Fundy shores and communities are the pictures that are painted in the sky every morning and evening. Fundy's sunrises and sunsets are often awe-inspiring.
This was the 51st article in our "52 Reasons to visit the Bay of Fundy" series. Family Fun was last week's reason to visit the Bay of Fundy. Don't forget to mark your calendar or use our RSS feed so you won't miss next week's final reason to visit the Bay of Fundy!