This week I would like to bring you to three hiking locations, two in Nova Scotia and one in good old dependable Fundy Park. At this time of year I, like most hikers, am happy to be going out in to the forest, especially when that forest is near the ocean. These hikes are usually cooler and being near the ocean breezes there usually are not too many nasty insects flying about.
These hikes were all done on different days over four weeks and they were all great hikes with good weather on all of them, and good turnouts as well.
1. Cape Chignecto Provincial Park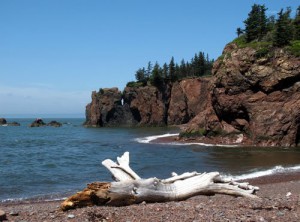 The first hike was in Nova Scotia in Cape Chignecto Provincial Park. We entered the park from Apple River to Eatonville, near the day use center and the Three Sisters sea stack formations. We did not go in to the center as the gate was up. Instead we parked by the gate and proceeded on foot down the Eatonville Road to the rough campground area and went through and on to the trail that would lead us to Seal Cove.
The distance one way to Seal Cove is about 6Kms./3.6 miles, and is a hilly, wooded footpath for about a third of the way, and then along the coast for the rest of the way. (Trail map)
There are many lovely vistas as you look out and across Chignecto Bay to see the village of Alma neatly tucked away in a cove. You can also see a clear view of the Three Sisters sea stacks and the impressive little cove and sandy beach that the girls protect. Go out on to the rocky basalt cliffs and watch the waves crashing below.
Seal Cove itself has one of four or so rough camping places you can find along the complete trail that goes from Red Rocks in West Advocate in a loop all along the coast and then cross country and back to Red Rocks. There are also two cabins in different places along the route that you can arrange to stay in if you do not want to tent.
The Eatonville to Seal Cove portion of the trail is most satisfying and I would recommend it to anyone. When we came off the trail we drove back to Amherst and had a delicious meal at the cozy, comfortable Duncan's Pub which is located next to Dooley's and the police station on Victoria St.
2. Five Islands Provincial Park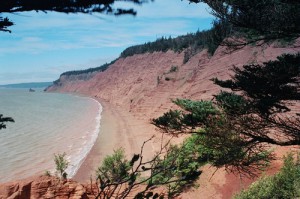 The next weekend the Outdoor Enthusiasts went down to the Five Islands Provincial Park in Nova Scotia and did the estuary trail to the coastline of the Minas Basin. We then scrambled over some rocks and on to a rocky beach which soon gave way to relatively hard sand and world class cliff and rock formations. The whole outing turned out to be in the 13KM./8.2mile range, on a beautiful sunny day. (Trail map)
The cliffs next to the Five Islands are of some renown, having been photographed by National Geographic among many other publications and film crews. Red sandstone fingers or toes emerge from the basalt cliffs and in some places there is another layer that looks very much like limestone, all in the same cliff line.
A sort of scree or moraine bleeds down from the basalt at the top and separates the sandstone into what some people have described as toes. The cliffs are in the 35 meter/ 120 ft. range and are truly spectacular. Curiously the same type of cliffs can be found in Morocco, undoubtedly getting there from the action of the continental drift when Pangaea was breaking up and Nova Scotia almost ended up as part of North Western Africa.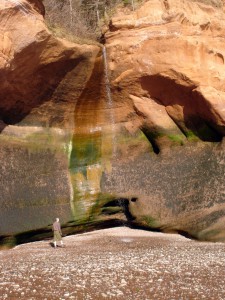 If that was not enough, there was a most amazing waterfall which had kind of a narrow tap like flow of sparkling water droplets that gleamed in the sun. The droplets arced out and fell to the beach below without touching anything on the way down. In fact the water had formed kind of a grotto which must have been formed when the flow of water was not as powerful as it was on this day.
Trickling down the side of the concave grotto during those low flow days made it silky smooth, and indeed coloured the rock in various shades of green, the colour contrasting nicely with the reddish hues of the sandstone. Standing under this waterfall and looking up yielded the most amazing sparkling light show. Finding this phenomenon made the hike, as everyone was dazzled, and it became the talk of the day.
It was hard to leave these areas along the beach which also included beigy red play dough-like rock that looked like it was sculpted by the many hands of a kindergarten class of giant toddlers. It was kneaded and shaped with no particular design in mind. When we finally did head back it was startling to see how much the tide had receded from the time when we first hit the beach. We arrived back to the estuary trail and proceeded through the woods and back to our vehicles.
If that was all, then it would have been a fun and successful day, but we were in for another treat as we stopped in downtown Five Islands at Mo's Internet, hostel, book store, art gallery and cafe. It is a bright airy little spot with wood oven fired pizza, soups, chowders and sandwiches all made and served by some funky, friendly young folks who treated us very well.
There were also some micro brewery beers and some good teas and coffees. I had a personal size Mediterranean style wood fired pizza and a raspberry wheat beer, they were both delicious. What an unexpected bonus to find this great little spot in such a tiny community. A spectacular and educational day of hiking and now this, is it any wonder I love hiking.
3. Fundy National Park
The third and final outing was in Fundy National Park on a sunny calm day on which 23 people showed up for the hike, including a half a dozen brand new (to our group) hikers.
The wonder of it all is that the hike was advertised as strenuous, which usually keeps the newer people away. They often prefer to break themselves in on an easy or moderate hike. We were doing what we simply refer to as the White Tail Trail, which actually is made up of the White Tail, Tippenlot, part of the Coastal Trail, the Maple Grove Trail, along with bits of the golf course and a short connecting trail to and partly through the Chignecto North Campground. (PDF trail map)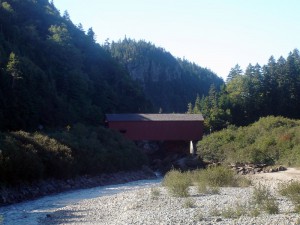 The trail is about 13Km./8.2 miles, and has quite a few fairly good hills on it, and depending on where you start and in which direction you go, it can be made easier (not easy) or more difficult. Today our leader the always dashing (in both senses of the word) Ralph LeBlanc was doing it the most difficult way.
We started from the Chignecto North campground and crossed route 114 and went in to Chignecto South and down the Maple Grove Trail to where we crossed the road to Point Wolfe and joined up with the Tippenlot Trail which passes a placid beaver pond on which the water was like glass on this day.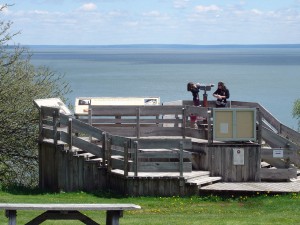 We then went up a rather steep incline to get to a ridge which continues on through a fabulous tall forest of mostly red spruce and some fir. We then headed down to a junction with the Coastal Trail and went down to Herring Cove for lunch. Herring Cove is always a nice place for lunch with its shelters, green fields and view of the Bay of Fundy, not to mention a beach to explore only a few metres away.
Climb no.2 began after lunch as we had to get on the Coastal to get the 3Kms/2miles or so along a unique ridge which falls away on both sides in some places. I have always found this trail to be one of the most powerful intriguing places in the park.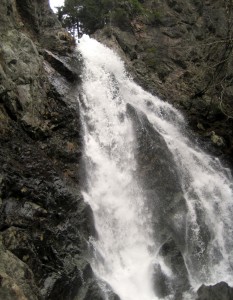 Everyone stayed pretty close together and the sweep's job was fairly easy on this hike as we arrived at the golf course and continued on up to the clubhouse for a much deserved rest.
We now had one last climb up another rugged, steep ridgeline which followed along a stream whose noisy gurgling seemed to mock us on its easy downward run to the bay as we struggled up the ridge in the opposite direction.
I know everyone was quite relieved to be back to our starting point and the finish of our hiking for the day, yet there was a look of not only relief but also satisfaction and contentment at having had such a marvellous hike in knowing  there will be many more before we must don the snowshoes. (I know I have a sick mind even thinking of such a thing at this time of year),
It has not been a great month weather wise, but looks like it may be a fabulous August, so there will be some good opportunities to get out and "take a hike".