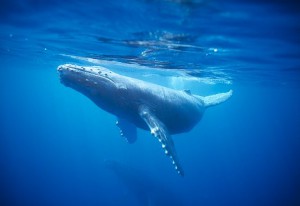 The Bay of Fundy is one of the richest marine habitats in the world and is therefore the summer feeding ground for many marine mammals, seabirds and saltwater invertebrates. When you take part in a whale watching adventure on the Bay of Fundy you can expect to see minke, fin- and humpback whales as well as the rarest large mammal on Earth – the North Atlantic Right Whale.
Bay of Fundy Whales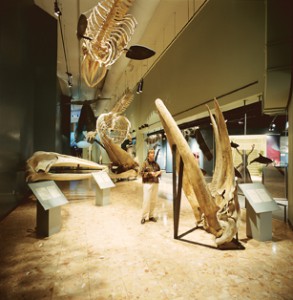 New Brunswick Museum
The New Brunswick Museum, found in Market Square in Uptown Saint John, contains three floors of galleries and exhibits. In the "Hall of Great Whales", a favorite gallery within the museum, hear the tale of a North Atlantic Right Whale named Delilah who washed up on the shores of Fundy, touch a piece of baleen, learn interesting facts about minkes and humpbacks and see skeletons and full-body models of several species of whales including the right whale.
Excursions
Whale watching is a popular activity near the mouth of the Bay of Fundy as the whales do not travel too far into the Bay. There are a number of reputable whale watching companies along both sides of the Bay who set out on the seas in a variety of vessels including catamarans, zodiacs, fishing boats and sailing yachts.
Other common sightings on these adventures include harbour porpoise, dolphins, sharks, seals, bald eagles and a variety of seabird colonies, sometimes including the Atlantic Puffin.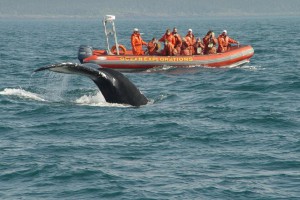 Whale Watching Communities
New Brunswick:
Nova Scotia:
If you enjoyed this 22nd article in our "52 Reasons to visit the Bay of Fundy" series then we recommend you check out the overview of all the articles in this series. You might also want to use our RSS feed so you won't miss any articles in the future!