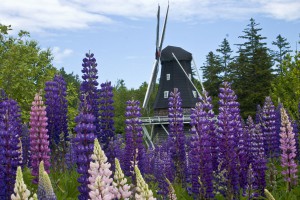 Some of the world's most unique natural phenomena can be found in and around the world renowned Bay of Fundy, along Canada's east coast. Combining these spectacular natural resources with the artistic talent of the local population has resulted in some truly spectacular gardens. While you are exploring the Fundy region you should certainly visit at least one of these amazing gardens.
Kingsbrae Garden
Descibed as a " 27 acre horticultural masterpiece", Kingsbrae Garden is located in the historic resort town of St Andrews By-the-Sea.
Built on several grand old estates, Kingsbrae Garden incorporates both new and traditional gardening styles. Follow walking paths through the various themed gardens, including the Bird and Butterfly Garden and the Sense and Sensitivity Gardens, or stroll through the eight hectares of old-growth Acadian forest, and appreciate over 50,000 flowers, shrubs and trees that have found a home at Kingsbrae Garden. Dozens of sculptures and fountains can also be found throughout the grounds as well as a functioning 1/3 scale Dutch windmill, clear ponds and alpacas, peacocks and pygmy goats.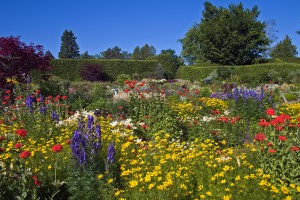 In addition, while on site, visitors may opt to explore the gift shop for unique souvenirs and local art work, the plant centre for a wide selection of annuals and hard-to-find perrenials, shrubs and trees or the licensed Garden Cafe for a bite to eat overlooking the grounds and the Passamaquoddy Bay.
Kingsbrae Garden is a nationally and internationally award winning site. In 2010, Kingsbrae was included in the "top 5 travels" worldwide by Boston Globe travel writer and widely published author Steve Jermanok. He said:
"I was excited to walk through Kingsbrae Gardens in St. Andrews this past July, especially after being cooped up in Down East Maine dealing with three solid days of rain […] the quiet seaside town of St. Andrews is an undiscovered gem with Kingsbrae Gardens leading the way. Hummingbirds flew under the tall chestnut trees, water lillies dotted the fountains, and every where you looked, there was some whimsical sculpture nestled within the 27-acre grounds. I bent down and inhaled from the sweet-smelling rugosas and for a moment, everything was bliss." – Steve Jermanok
Sculpture Competetion
At Kingsbrae Garden, artists are invited to enter the annual national sculpture competition, whether or not they've ever exhibited before. Discover a garden of Canadian sculptures, planted in nooks and glades, amidst wildflowers, ancient cedar hedges and towering trees, all alongside extensive water features. It's Canada's largest annual outdoor sculpture competition, and winners of the first and second prizes ($10,000/$5,000), as well as honourable mentions, are in place in the Sculpture Garden. The third annual competition kicks off June 9th, when the 2011 prize winners will be announced; the contest is again fully subscribed from across Canada. For more information check out the official annual national sculpture competition webpage.
Blomidon Inn Gardens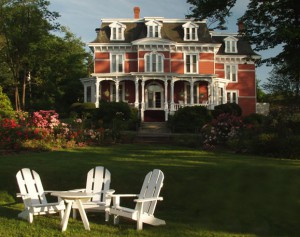 The gardens surrounding the Blomidon Inn in Wolfville are beautiful from spring to fall. The history around the property itself dates back to 1881 and the Inn features 29 guest accomodations, 2 dining rooms and a gift shop showcasing Canadian crafts, linens and bath accesories, specialty kitchen items, Christmas trinkets and garden treasures. The public is welcome to stroll through the gardens from 8am until dusk daily to view the Serpentine Rhododendron and Azalela Gardens, the Cactus Garden, the Rose Square Gazeebo, a three-pond garden with rainbow trout, Lupin Hill, a vegetable garden with salad greens, beans, tomatoes and peppers and a collection of local rocks including granite, red quartzite, Fundy blue rock and gypsum.
Annapolis Royal Historic Gardens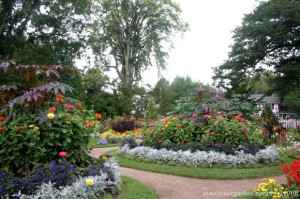 First open in the summer of 1981, the Annapolis Royal Historic Gardens showcase 17 acres of gorgeous gardens over 400 years of local history in Nova Scotia's Annapolis Valley. Themed gardens include the rose collection (featuring 100's of rose cultivars), the Garden Ponds (with a collection of aquatic plants) and the Governor's Garden (an 18th century design). Visitors will also enjoy the Innovative Garden where they have the opportunity to learn about modern methods of gardening as well as new plant materials used in todays urban gardens. Other interesting features of the Annapolis Royal Historic Gardens include a unique Bay of Fundy driftwood sculpture and La Maison Acadienne.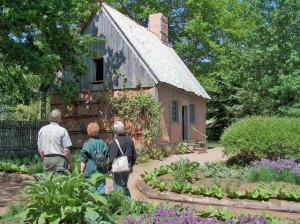 La Maison Acadienne, a replica house dating back to the 17th century, a time when the French settled in the region, features a bake oven, thatched roof, and views of old Acadian dykes and salt marshes along the Allain's River. The design of the dwelling, the gardens and the dykeland were designed based on evidence from archaeological excavations.
In addition to viewing the gardens, visitors can take part in hands-on workshops to learn about basketmaking, gardening tips and floral photography. For the kids, container painting and butterfly gardening workshops are also offered.
Finally, before leaving the Annapolis Royal Historic Gardens, visitors should stop to peruse The Garden Shop to find a variety of Maritime art, books and gifts related to historic and floral themes and also the Garden Cafe for snacks, lunch or a selection of German baked treats.
This article is part of our "52 Reasons" series. So check out the next reason: Bay of Fundy Museums, or last week's reason: Fascinating Fossils. We also think you may want to take a look at the overview of all the articles in this series and use our RSS feed so you won't miss any further articles!