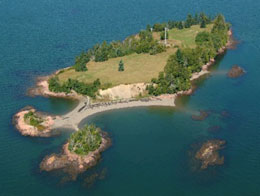 Located at the mouth of the Saint Croix River, an international boundary between Canada and the United States, Saint Croix Island is the location of North America's first significant European settlement. In the summer of 1604, approximately eighty French colonists, led by Pierre Dugua, Sieur de Mons, and Samuel de Champlain, established a colony on the island. The first winter in "Nouvelle France", however, proved difficult. Due to a shortage of fresh drinking water and the lack of fresh fruits and vegetables, nearly half of the settlers fell ill to scurvy and died.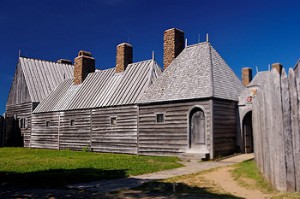 After exploring more of Fundy's coast in 1605, it was decided that the group should settle on the Annapolis Basin at "Port Royale" – the first permanent European settlement in North America. The soil was fertile, there was an abundance of fish and game and the native Mi'kmaq people welcomed the French settlers (Parks Canada, 2011). Port-Royal proved to be much kinder to the men than Saint Croix Island.
Today Saint Croix Island is an International Historic Site; a monument to the beginning of Canada and the United States. Although there is no ferry services to Saint Croix Island, visitors to the area can view interpretative displays in Bayside (New Brunswick) or Calais (Maine).
Port-Royal (Nova Scotia) is a National Historic Site of Canada. Open mid May through mid October, visitors will meet costumed interpreters and observe interesting period demonstrations as they tour this reconstruction of the early 17th century French colony.
This was the 11th article in our "52 Reasons to visit" series. Take some time to read our next reason: Destination Weddings, or last week's reason: Bay of Fundy Museums. We also think you may want to take a look at the overview of all the articles in this series and use our RSS feed so you won't miss any further articles!