As a newcomer to this area of Canada, I still feel a need to pinch myself every day. The scenery in every corner of the Bay of Fundy area is breathtaking, and I know that even if I live here for the rest of my life, I won't take it for granted. I'm getting married here next year. We hope to have a ceremony out on the water, and celebrate afterwards with friends and family on Deer Island.
Our photographer and our guests won't have to look too far to get that perfect photo, as the photo opportunities are everywhere. The food will have been caught by local fishermen, and cooked by local chefs. The music will be live and anyone who wants to join in can pick up a guitar, and the sea-glass decorations will be hand-picked off local beaches. The Bay of Fundy will provide the site where we say I do, will provide the food for our guests, and be the gorgeous backdrop to the whole event.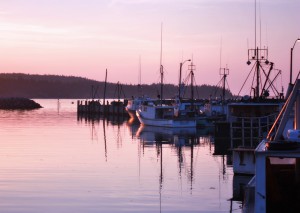 For those couples who want the simplicity of a destination wedding, but who's budget doesn't extend to the 4-star all-inclusive resort in a place such as Jamaica, the Bay of Fundy area could really be the next best thing. Whether you want the beach wedding, the grand hotel, the rustic lodge, the quaint inn or a garden party, there are numerous venues to choose from, with varying price ranges. They take pride in their cuisine here, and talented chefs and caterers also abound.
Whether you're locals, coming from across the province, from another part of Canada, or from another country altogether, you'll probably want to spend some time exploring the area before or after the wedding with your guests. Whale watching is a popular activity in the area for visitors of all ages.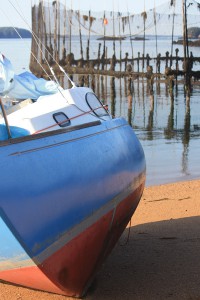 There are many whale watching companies which leave from towns in New Brunswick, such as St Andrews, and in Nova Scotia too. Other popular activities include hiking and biking, tasting seafood cooked in many different and delicious ways, trying a locally brewed beer on a seaside patio, picking blueberries, kayaking, shopping in some of the small seaside towns or a larger city, such as Saint John, relaxing on a beach, sport fishing, golfing and visiting historic sites. Whatever type of travellers your guests are, they will be able to find accommodation and activities just right for them. They will feel so privileged to have been invited to this special part of Canada to celebrate your big day.
As a newcomer, the two features which stand out the most for me in this area are the stunning views and the hospitality. The views change depending on the time of day and time of year, but the hospitality remains consistently inspiring, and I'll be proud to invite my closest friends and family to this part of Canada to celebrate my wedding day with me.
This was the 12th article in our "52 Reasons to visit" series. Take some time to read our next reason: Beaches: Sea, Sand and Surf, or last week's reason: First European Settlement. We also think you may want to take a look at the overview of all the articles in this series and use our RSS feed so you won't miss any further articles!