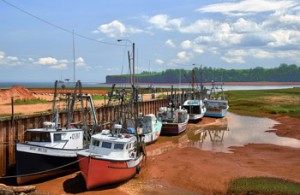 The fishing industry is a large employer throughout parts of the Fundy region and therefore the appearance of scenic fishing weirs off the coast and historic fishing villages along the shores are common.
In New Brunswick travel along Route 790, through the communities of Chance and Dipper Harbours and Maces Bay, and through St. Martins, Alma and the Fundy Isles to observe the comings and goings of the fishing boats.
Likewise in Nova Scotia, specifically Halls Harbour and Digby, and in Eastport, Maine, stop to watch the ebb and flow of the tides, stroll the fishermen's wharves and take a deep breath of the crisp, salty air.
At low tide, remaining fishing boats are left high and dry, while at high tide, they sit almost parallel with some wharves.
Perhaps purchase some fresh fish from a local fisherman as the day's catch is unloaded.
This was the 41st article in our "52 Reasons to visit the Bay of Fundy" series. Outdoor Recreation was last week's reason to visit the Bay of Fundy. Don't forget to mark your calendar or use our RSS feed so you won't miss the 42nd reason next week!