In addition to the many outdoor activities we have already listed, a number of other thrilling outdoor activities to be sampled along the Bay of Fundy coast including exploring undeveloped and wild caves, chartering a scuba dive to meet some of the Bay's interesting inhabitants or zip above the Reversing Rapids.
Caving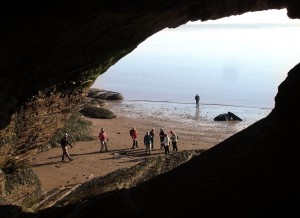 Explore the White Caves in Albert County's Hillsborough Wetland Park with Baymount Outdoor Adventures. A three-hour guided excursion, the tour takes groups through an undeveloped and "wild" gypsum cave system between May and September. (Baymount Outdoor Adventures, 2011).
In addition to the actual caving experience, learn about safety practices, the formation of caves, the ecosystem surrounding the caves and the "bat story" as well as hear the legend of the "Gypsum Bears".
Scuba Diving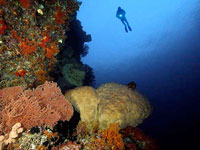 Popular Bay of Fundy diving sites include New River Beach, Beaver Harbour, Seeley's Cove, Deer Island and St. Andrews. The Dive Shack (Saint John) and the Navy Island Dive Company (St. Andrews) offer scuba training, equipment rentals and sales and information on local dive sites.
Many have ranked the Bay of Fundy above Australia's Great Barrier Reef when examining the extensive and exceptional pyramid of the marine food-chain it has created, and as a consequence, the broad and diverse range of marine life it attracts.
Zip Lines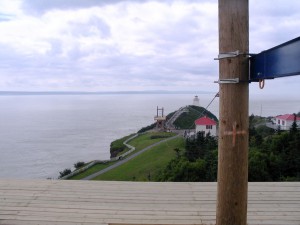 There are at least three locations to zip line along the shores of the Bay of Fundy.
Saint John – Saint John Adventures: Enjoy magnificent views of Saint John's Reversing Rapids – the collision of the giant Fundy tides with the St. John River – as you travel along five zips, the last of which crosses the Rapids and is a dual line allowing you to race to the finish.
Cape Enrage: Newly added for the 2011 season, try the single zip line at Cape Enrage.
Moncton – TreeGo: In addition to the zip lines, Moncton's TreeGo course include a moving obstacle course, rope swings and tree climbs. There is also a children's course on site.
Jet Boat Thrill Ride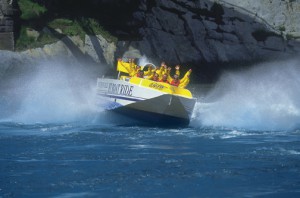 While visiting Saint John, experience the Reversing Falls Rapids upclose and personal on a 20-minute jet boat thrill ride. Make sure to bring a towel and change of clothes as participants get soak and wet!
Other Outdoor Adventures:
There is no doubt that the Bay of Fundy is a dream come true for all outdoor recreation enthusiasts!
This was the 40th article in our "52 Reasons to visit the Bay of Fundy" series. Magnetic Hill was last week's reason to visit the Bay of Fundy. Don't forget to mark your calendar or use our RSS feed so you won't miss the 41st reason next week!