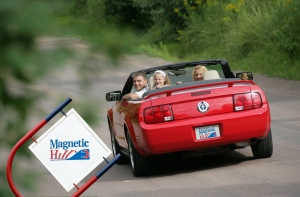 A phenomenon first noticed by local farmers in the 19th century, Magnetic Hill is located in Moncton, New Brunswick along the Fundy Coastal Drive. While traveling on this hill, farmers noticed that their horses were struggling to go downhill, yet on the return trip uphill the wagons would catch up to the horses' feet.
Today visitors to the region can drive to the foot of this hill, put their vehicles in neutral and coast backwards to the top of the hill.
Some believe that Magnetic Hill is merely an optical illusion, while others say a large magnet has been buried at the hill's peak.
Following a trip up Magnetic Hill, perhaps check out one or more of the following attractions situated nearby:
Magic Mountain Water Park
Magnetic Hill Winery
Magnetic Hill Zoo
Wharf Village
Go-Cart Track
Butterfly World
This was the 39th article in our "52 Reasons to visit the Bay of Fundy" series. Fall Foliage was last week's reason to visit the Bay of Fundy. Don't forget to mark your calendar or use our RSS feed so you won't miss the 40th reason next week!