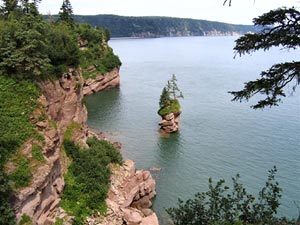 Miles upon miles of Bay of Fundy hiking trails wait to be explored along the coast that surrounds the magnificent Bay of Fundy. In Fundy's many parks find trails suited to those looking for a leisurely hike as well as for those seeking a genuine challenge. Follow rugged trails to otherwise hidden, breathtaking coastal and forested territories, such as those found along the Fundy Footpath, stick to more traveled pathways that lead you to stunning rural vistas, like Cape Split, or take a more relaxed beach hike along Fundy's pristine shoreline. Depending on your preference, you can choose to plot your own course or be led by a knowledgeable local guide.
A few of Fundy's hiking options:
Fundy Trail
Also accessible by car and bicycle, the Fundy Trail (New Brunswick) offers hiking trails that range from easy two-hour guided walks to challenging multiday hikes (See Fundy Footpath and Fundy Trek). Discover scenic lookouts, footpaths to beaches and cross a suspension foot bridge. www.fundytrailparkway.com
Fundy National Park
Over 100km (62mi) of hiking trails, ranging in difficulty from easy loops to the challenging Fundy Circuit, can be found within the boundaries of Fundy National Park (New Brunswick). http://www.pc.gc.ca/eng/pn-np/nb/fundy/index.aspx
Five Islands
One of Nova Scotia's provincial parks, Five Islands offers visiting hikers the choice between two scenic, easy to moderate hikes: the 4km (2.5mi) Estuary Trail loop and the 4.5km (2.75mi) Red Head Trail. http://www.novatrails.com/minasbasin/parks/fiveislands/index.php#002
Cape Split
An 8km (5mi) trail guides hikes from Scots Bay (Nova Scotia) to Cape Split. From this narrow finger of land, which extends nearly across the Minas Channel, views of the Bay of Fundy are nothing short of extraordinary. If timed properly, hear the hollow roar, caused by turbulent waters surging over the submarine ridges far below, that fills the cliffs and forests at the mid-point of the incoming tide. http://www.novatrails.com/annapvalley/trails/capesplit/index.php
Multi Day Hikes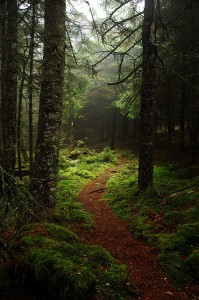 Fundy Footpath
Connecting the Fundy Trail Parkway to Fundy National Park (New Brunswick), the Fundy Footpath is a challenging 41km (24 mi) continuous wilderness trail. http://fundytrailparkway.com/en/the_fundy_footpath/
Fundy Circuit
Found in Fundy National Park (New Brunswick), the Fundy Circuit links seven hiking trails within the park. Hike 45km (28mi) along Fundy's magnificent coast, through river valleys and forests and near pristine lakes. http://www.pc.gc.ca/eng/pn-np/nb/fundy/activ/ete-summer/randonnee-hiking.aspx
Dobson Trail
A 60km (37mi) footpath, the Dobson Trail leads hikers through Albert County, New Brunswick's Caledonia Highlands from Riverview to the Eastern Boundary of Fundy National Park. http://www.fundyfootpath.info/index.php?pr=Dobson_Trail
Fundy Trek
The Fundy Trek is a challenging 125km (78mi) hike between Riverview, NB and St. Martins, NB.
The Best Bay of Fundy Hikes
Paul Gaudet lives in Moncton, New Brunswick and is an avid hiker, snowshoer and the vice president of the Outdoor Enthusiasts Club of Moncton. He writes a newspaper columns called "Take A Hike" which is published every second Monday in the Moncton TimesTranscript newspaper. He has shared some of the best Bay of Fundy hiking spots right here on the bayoffundy.com. Read his articles below to find some great suggestions on where to go hiking around the Bay of Fundy:
This was the 34th article in our "52 Reasons to visit the Bay of Fundy" series. Stargazing in Canada's First Urban Star Park was last week's reason to visit the Bay of Fundy. Don't forget to mark your calendar or use our RSS feed so you won't miss the 35th reason next week!