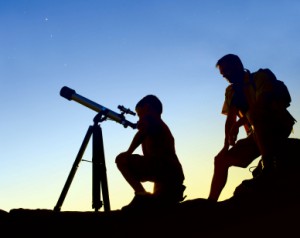 Although there are many places along the Bay of Fundy coastline that allow for magnificent stargazing, Irving Nature Park – situated directly on the shores of the Bay of Fundy in Saint John, New Brunswick – was recently designated the first Urban Star Park in Canada by The Royal Astronomical Society.
The Irving Nature Park, located on the west side of the city, was created by JD Irving Ltd. to protect an environmentally significant area along the Bay of Fundy and one of New Brunswick's richest marine ecosystems (JD Irving Ltd., 2011).  This 600 acre park contains over 20 kilometers (12 miles) of nature trails, boardwalks through salt marshes, sandy beaches, picnic and barbecue sites and phenomenal bird watching opportunities as well as unique geological history.
The Irving Nature Park and the Saint John Astronomy Club annually host various stargazing events.  This past year's events included:
Warm up to Starlight (February) – Participants were able to look through telescopes to see the sun's light reflect off the moon and planets at night.
National Astronomy Day (May) – Celebration of Astronomy Day with a sunset tutorial on star maps and descriptions of various night sky observations seen through telescopes.
Urban Star Park designation (August) – Designation of the Irving Nature Park as an Urban Star Park as well as meteor watching during the peak period of the annual Perseid meteor shower and telescope observations.
There is no admission fee to visit the Irving Nature Park and is accessible by foot year round, with the gates being open for vehicle traffic May through October.
This was the 33rd article in our "52 Reasons to visit the Bay of Fundy" series. Rich Ecosystem: 50 Amazing Places to Explore was last week's reason to visit the Bay of Fundy. Don't forget to mark your calendar or use our RSS feed so you won't miss the 34th reason next week!