Off the beaten path, the Cape Enrage is located along Route 915 in Albert County (New Brunswick) and is often explored as a detour by those travelling between Fundy National Park and the Hopewell Rocks.
Cape Enrage's rappelling adventure is about two hours in duration and as many descents as participants are energy for during that time period, typically about six descents.  The rappel face – 43m or 140ft – is situated over a fossil beach that is washed daily by the high tides of the Bay of Fundy.  The return trek to the top takes only three to five minutes by foot.
Adjacent to the rappel face is the 18.5m or 60ft cliff used for rock climbing.  As with rappelling, climbing is generally a two hour adventure and the number of actual climbs being dependent on one's energy level.  Fundy's tides do play a factor with this adventure – with the cliffs being inaccessible for three to four hours during high tide.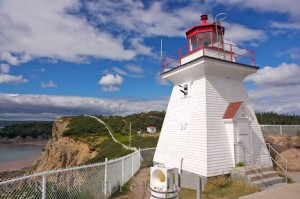 Equipment and experienced guides are provided for both adventures.  Comfortable clothing and rugged footwear are recommended.
For those interesting in learning more about these sports, Cape Enrage also offers a 12-hour course titled "Learning the Ropes: An Introduction to Safe Rappelling & Climbing".  No experience is necessary prior to taking the certificate-bearing course.
In addition to the outdoor adventures available at Cape Enrage, it is a great place of observe the ebb and flow of Fundy's great tides and the onsite lighthouse is the oldest lighthouse on mainland New Brunswick; built in 1840 (CapeEnrage.ca, 2011).
This was the 36th article in our "52 Reasons to visit the Bay of Fundy" series. The World's Best Seafood Dinners were last week's reason to visit the Bay of Fundy. Don't forget to mark your calendar or use our RSS feed so you won't miss the 37th reason next week!