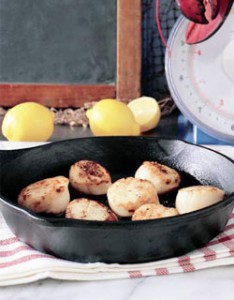 One of the first things visitors often ask upon arriving in the Fundy region is "Where can I go for a great seafood dinner?"
That's easy.
Fishing is one of the region's major industries and there are a multitude of restaurants in nearly every community that lines the shores of Fundy specializing in fresh, local seafood with options for all budgets. Clams, mussels, salmon, haddock, halibut, shrimp and perhaps the most popular – scallops and lobster.
DIGBY SCALLOPS
Digby, Nova Scotia, a coastal community found on Bay of Fundy, is home to the largest inshore scallop fleet in the world and the famous sweet and plump Digby Scallop. Pan fried, wrapped in bacon or in a thick chowder… delicious!
If your travels bring you to Digby during early August, be sure to check out the annual Scallop Days festival and perhaps try your hand at shucking one of these tasty molluscs.
LOBSTER
Bay of Fundy lobster is considered by many to be the best-tasting lobster in the world. The Bay's cold waters contribute to the quality of the meat, while the lobster's Fundy diet gives the meat its special flavour (FundyLobster.com, 2011). Lobster rolls, lobster bisque or cracked and dipped in butter… Fundy lobster is a yummy treat!
WHERE TO STOP
A few suggestions for places to stop and sample some Fundy seafood:
St. Andrews, New Brunswick
Restaurants: Harbourfront Restaurant, The Gables, Europa
Enroute from St. Andrews to Saint John
Smoke Salmon: Follow the signs off the highway to Oven Head Salmon Smokers or Wolfhead Salmon Smokers.
Take away: Ossie's Take-out
Sit-in: Comeau's Restaurnat
Saint John, New Brunswick
Restaurants: Billy's Seafood, Grannan's Seafood, Steamer's Lobster Company
Take away: Lord's Lobster
Fresh seafood: Billy's Seafood, Lord's Lobster
St. Martins, New Brunswick
Restaurants: Cave View Restaurant, Seaside Restaurant, Tidal Watch Inn
Alma, New Brunswick
Take away: Fundy Takeout
Fresh seafood: Butland's Seafood
Moncton, New Brunswick
Restaurants: Catch 22 Lobster Bar, Fisherman's Paradise
Fresh seafood: Moncton Fish Market
Halls Harbour, Nova Scotia
Lobster in the Rough – Halls Harbour Lobster Pound & Restaurant
Digby, Nova Scotia
Restaurants: The Fundy Restaurant, Captain's Cabin, Shoreline Restaurant
This was the 35th article in our "52 Reasons to visit the Bay of Fundy" series. The many Bay of Fundy Hiking Trails were last week's reason to visit the Bay of Fundy. Don't forget to mark your calendar or use our RSS feed so you won't miss the 36th reason next week!