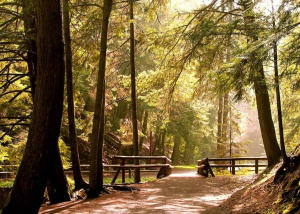 While traveling along the Fundy coasts of Maine, New Brunswick and Nova Scotia, discover many diverse parks of international, national, provincial or state significance. Explore untamed, natural beauty, observe rich eco-systems or watch the sunrise from the highest point along the Eastern seaboard north of Brazil.
Hikers will enjoy miles of rugged trails through extensive forests to rocky headlands and along bold coastlines.
Naturalists will discover a rich variety of plant life growing in the forests and meadows as well as an abundance of wildlife. Over 260 species of birds, 40 different mammals and various amphibians and reptiles call Fundy's parks home.
Photographers will be inspired by the beauty of Fundy's parks and the landscape that is constantly changing with the ebb and flow of the Bay's great tides. And families can pack a picnic and spend the day exploring or merely drive through and appreciate the fantastic scenery. Make sure you check out at least some of the following Fundy Parks:
Maine
New Brunswick
Nova Scotia
Cape Chignecto Provincial Park
This was the 14th article in our "52 Reasons to visit" series. Take some time to read our next reason: Fundy Isle Island Hopping, or last week's reason: Beaches: Sea, Sand and Surf. We also think you may want to take a look at the overview of all the articles in this series and use our RSS feed so you won't miss any further articles!