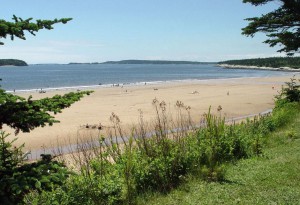 The Bay of Fundy is home to miles of unspoiled, saltwater beaches. The perfect place to relax in the sun, play in the ocean's waves or take a peaceful stroll. Find interesting driftwood and shells and colourful, smooth stones left behind by the tides. On a hot summer's day, brave the cool waters of Fundy and take a refreshing dip.
Two must-visit beaches along the Fundy coast are Mavillette Beach and New River Beach.
Mavillette Beach
A favoured beach along Nova Scotia's French Acadian Shore is Mavillette Beach. Boardwalks protecting the marram grass covered dunes lead visitors to the 1.5km sandy beach. At low tide, sand flats are exposed to the sun and then, as the tide comes in, the hot sand warms the water.
New River Beach
In New Brunswick, just outside the City of Saint John, New River Beach is a popular spot for both tourists and locals alike. New River Beach plays host to an incredible sand sculpture competition each year. Friends, families and children – under various categories – spend hours in the sun creating truly interesting and intricate sculptures from the sand ranging from popular cartoon characters to scenic depictions. The dates of the event change each year as the competition needs to take place on a weekend with low, low tides to allow participants the maximum amount of time to complete their creations.
Finally, an added bonus about Fundy beaches is the lack of crowds. Compared to beaches in high-traffic tourist destinations, the beaches along the Fundy coast are nearly deserted. So come with your beach blanket, sunscreen and a good book and enjoy a relaxing day in solitude at the beach!
This was the 13th article in our "52 Reasons to visit" series. Take some time to read our next reason: Fundy Parks, or last week's reason: Destination Weddings. We also think you may want to take a look at the overview of all the articles in this series and use our RSS feed so you won't miss any further articles!