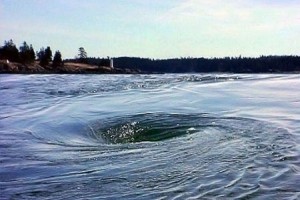 Located in the Western Passage of the Passamaquoddy Bay, between Deer Island, NB and Eastport, ME, Old Sow is the largest natural whirlpool in the Western Hemisphere and the second largest in the world. From an aerial photograph taken in the late 90s, it is estimated that the diameter of Old Sow Whirlpool measures up to 76 meters or 250 feet.
Created in part by the Bay of Fundy's tremendous tides rushing into a narrow passage, the submarine terrain of trenches and mountains and other nearby tidal waters also contribute to Old Sow's activity. Old Sow is at its largest when the tides are at their highest and grows even larger if the high tides coincide with strong winds. (Old Sow Publishing, 2011.) Old Sow can be viewed for a couple of hours twice a day – starting at three hours before high tide.
Although sometimes visible from land, the best way to truly appreciate this natural phenomenon is by chartered boat, operated by a qualified captain, and to actually sail through the whirlpool. The Old Sow Survivor's Association provides "Survivors" with a special certificate to prove to friends and family that they successfully navigated one of the five significant whirlpools in the world!
This was the 28th article in our "52 Reasons to visit the Bay of Fundy" series. Fog, nature's air conditioning was last week's reason to visit the Bay of Fundy. Don't forget to mark your calendar or use the RSS feed so you won't miss the 29th reason next week!