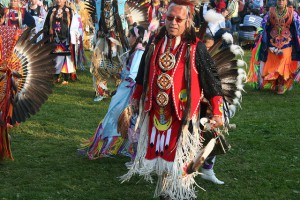 Long before the arrival of Acadian and British settlers, it was the native Mi'kmaq people who first lived on the shores of Fundy.
Visitors to the region can learn more about the Mi'kmaq people and their history by visiting the Bear River First Nation Heritage & Cultural Centre near Digby, NS and the Glooscap Heritage Centre in Truro, NS.
Bear River is a scenic, glacier valley that has been inhabited by Native Mi'kmaq people for thousands of years. The Bear River First Nation Heritage & Cultural Centre immerses visitors in Mi'kmaq culture; increasing awareness and appreciation of the life and traditions of the Mi'kmaq people. In addition to learning about Mi'kmaq history, visitors may also admire original arts and crafts, witness authentic re-enactments or take part in various hands-on workshops.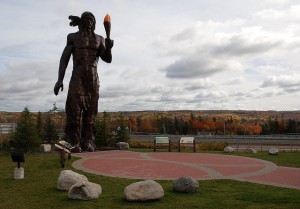 In Truro, before entering the Glooscap Heritage Centre, visitors have an opportunity to have their photo taken with a 40ft statue of the man-god Glooscap. Inside visitors are then guided by Glooscap through trials, tribulations and survival of the Mi'kmaq people in a fascinating multimedia presentation and have the opportunity to learn a few Mi'kmaq words. The centre also showcases 10,000 year old Aboriginal tools and traditional quillwork, beadwork, clothing and artifacts.
In addition to learning about the history of the people and seeing artifacts, visitors will also hear Mi'kmaq legends that have been past done throughout the generations; legends that show a genuine appreciation for the Bay's uniqueness and explain the many mysteries that surround the various phenomena.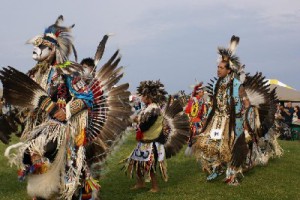 Mi'kmaq legend says that Fundy's great tide was created when Glooscap decided he wanted to take a bath. Glooscap commanded Beaver to build a dam at the mouth of the Bay to trap the water for his bath. Whale was angered by this and demanded to know what had stopped the flow of the water. Glooscap then, not wanting to annoy Whale, instructed Beaver to break the dam, but Whale was too impatient. He began to break away at the dam with his tail and these great movements set Fundy's waters in motion. To this very day the waters of the Bay continue to sway back and forth.
There are also great Mi'kmaq tales to account for the creation of the Hopewell Rocks, Fundy's towering sea cliffs, Nova Scotia's Five Islands and the chocolate coloring of the Petitcodiac River. This article is part of our "52 Reasons" series. So check out the next reason: Vineyards & Wineries, or last week's reason: St. John's Reversing Rapids. We also encourage you take a look at the overview of all the articles in this series and to use our RSS feed so you won't miss any further articles!