Experience the romance of the grape while traveling along the Fundy Coast – both Nova Scotia and New Brunswick have growing wine regions. Visitors have the opportunity to enjoy fantastic wines while experiencing the region's unique character.
Wolfville, Nova Scotia, seen by some as the cultural and intellectual centre of the Annapolis Valley, has become recognized for the vineyards and wineries that sit on the town's outskirts.
Vineyards and wineries located in the near Wolfville include: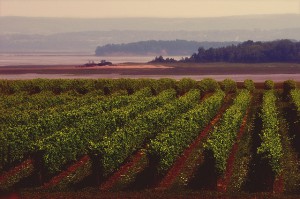 Nearer the mouth of the Bay of Fundy, in the village of Bear River, discover two additional vineyards. While Bear River is located just 6km inland on a tidal river from the Bay of Fundy, there is no fog and the summers are beautiful – creating ideal grape growing conditions.
Annapolis Highlands Vineyards – Situated 400ft above sea level in Bear River, Annapolis Highlands Vineyards produces award winning wines and tasty wine jellies and marmalades.
Bear River Vineyards – Bear River Vineyards use green energy including a 3kw solar powered electrical system and biodiesel powered machinery and vehicles. Their wines – Reisling, Baco Noir, Chardonnay and Pinot Noir – are 100% estate grown and produced.
Across the Bay in New Brunswick, discover another six vineyards and wineries – some specialising in delicious fruit wines.
Tuddenham Farms – Found near St. Stephen, just across the Maine border, Tuddenham Farms is actually a family operated blueberry farm and producer of blueberry wine.
Waterside Farms Cottage Winery – Located in Albert County – not far from Fundy National Park – Waterside Farms produces a variety of blueberry and rhubarb wines.
Magnetic Hill Winery – Located just 2km off the TransCanada highway in Moncton, Magnetic Hill Winery serves grapes and fruit wines including blueberry, strawberry, cranberry and raspberry.
La cave a vin Boudreau – Just 15 minutes from Downtown Moncton, la cave a vin Boudreau vineyard consists of a variety of French and American hybrid grapes. Seven wines are produced by the Boudreau family including Seyval, Vidal Dessert Wine, Frontenac, Marechal Foch, Leon Millot, Bonsoliel and Baco Noir.
Belliveau Orchards – With a history dating back to 1932, today Belliveau Orchards is recognized as New Brunswick's leading apple winery. Fruit wines, ice wines, old-fashioned cider and sparkling apple juice are also available at Belliveau Orchards as are seasonal tours of the orchard.
Winegarden Estates – Set in the rural New Brunswick community of Baie Verte – near the head of the Bay of Fundy – on 300 acres of farmland, Winegarden Estate produces a variety of wines including grape wines, fruit and dessert wines, fruit liqueurs, brandy, bitters and European-style eau-de-vrie.
There is no doubt that you will be impressed by the variety of wines available in the Fundy region! This article is part of our "52 Reasons" series. So check out the next reason: Maritime Hospitality, or last week's reason: Mi'kmaq Heritage. We also encourage you take a look at the overview of all the articles in this series and to use our RSS feed so you won't miss any further articles!