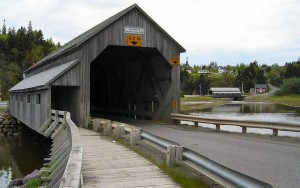 Less than an hour east of Saint John, on New Brunswick's Fundy Coastal Drive, explore the charming, fishing village of St. Martins.
Set on the Bay of Fundy, St. Martins was settled in 1783 and was originally the site of shipbuilding and shipping. Visitors to St. Martins love combing the miles of unspoiled beaches, learning about both the fresh and salt water fishing industries.
Favourite photo opportunities in St. Martins include the active harbour with its twin covered bridges – at both low and high tide – as well as the sea caves. Inaccessible at high tide, as they are filled with water, the sea caves are a popular attraction to explore at low tide.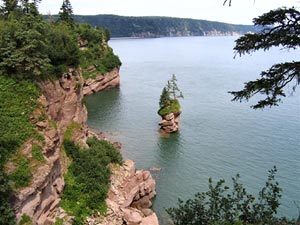 While in St. Martins exploring the Fundy Trail is also a must! Allowing visitors to discover previously unreachable coastal areas, the Fundy Trail teaches is visitors about the community's rich past in logging, fishing and shipbuilding, to identify plant, marine and wildlife in their natural habitats and showcases the ebb and flow of world's highest tides surrounded by absolutely striking scenery.
The Fundy Trail offers paved auto parkways, hiking and biking trails and stairways to unspoiled beaches. Discovers outlooks and observations decks, cross the suspension bridge and photograph waterfalls. In the winter, snowshoeing or cross country skiing are great alternative for exploring the Fundy Trail.
This was the 47th article in our "52 Reasons to visit the Bay of Fundy" series. Camping was last week's reason to visit the Bay of Fundy. Don't forget to mark your calendar or use our RSS feed so you won't miss the 48th reason next week!