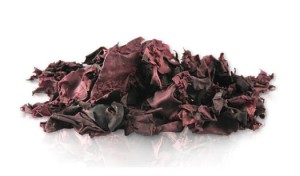 Somewhat of an acquired taste, dulse is an edible red seaweed that grows in intertidal zones in the North Atlantic and Northwest Pacific Oceans. Dulse picked off the coast of Grand Manan Island is said to be the best in the world, specifically that harvested in Dark Harbour. The high cliffs along this western section of the island shade the intertidal zones, protecting the dulse from too much sunlight and therefore producing a darker, thicker and more flavourful seaweed.
Dulse is harvested by hand at low tide from June through September. The dulse fronds – its leaflike growths – range in size from 20-40cm or 8-16in. When picked, a portion of the frond is left behind so that the plant will continue to grow. During the peak summer months, dulse grows so fast that the same shores may be picked every two weeks – during full moon and new moon.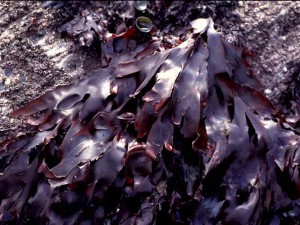 Once picked, the dulse is spread out to be dried. Once dried, it is often eaten as is or can also be ground into flakes or powder to be later used in various recipes.
According to the Grand Manan Tourism Association (2011), dulse is an excellent source of dietary requirements with just one handful containing 100% of the daily-recommended intake of Vitamin B6, 66% of B12, a day's supply of iron and fluoride and is also relatively low in sodium while high in potassium.
This was the 25th article in our "52 Reasons to visit the Bay of Fundy" series. The famous Flower Pot Rocks were last week's reason to visit the Bay of Fundy. Don't forget to mark your calendar or use the RSS feed so you won't miss the 26th reason next week!