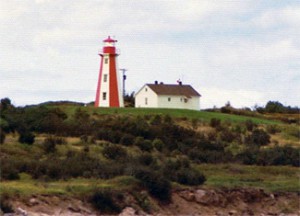 The first recorded lighthouse on the Bay of Fundy was lit on Partridge Island in 1791. Although Partridge Island is no longer accessible to the public, it is also known for being the first quarantine station in Canada and home to the world's first foghorn, invented by Robert Foulis in the 1850's. (Legion Magazine, 2007).
In addition to the lighthouse on Partridge Island, there are approximately sixty other lighthouses that line the shores of the Bay of Fundy, many of which have guided vessels and protected seafarers from rocky headlands for nearly two centuries. We've highlighted a few of the lighthouses below.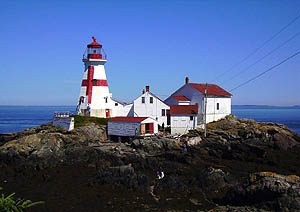 Head Harbour Lighthouse
Otherwise known as the Head Harbour Lighthouse, Campobello Island's East Quoddy Light is one of Canada's oldest lighthouses (built in 1829) and one of the most photographed lighthouses in the world. Visitors must time their excursions to this popular lighthouse carefully as it is only accessible an hour and a half before, and one hour after, low tide (Campobello.com, 2010).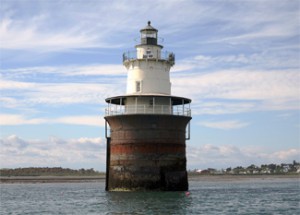 Lubec Channel Light
Lubec Channel Light, also referred to as "The Sparkplug", is located in the Narrows between Lubec, ME and Campobello Island, NB. This 53 foot, brick-lined cast iron tower was built in 1890 and stands watching over the channel (lighthouse.cc, 2010).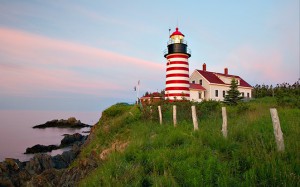 West Quoddy Lighthouse
On the other side of the channel, in the small, seaside town of Lubec, ME is West Quoddy Lighthouse. Built in 1808, replicated in 1857 and automated in 1988, this candy-striped lighthouse protects seafarers from the rocky shores of West Quoddy Head, including Sail Rock (lighthouse.cc, 2010).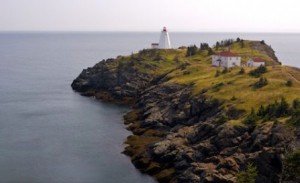 Swallowtail Light
In North Head, Grand Manan, Swallowtail Light – one of the few remaining wooden lighthouses in Canada – welcomes visitors from the mainland. Swallowtail Light is situated on a piece of land almost detached from the rest of the island and can only be reached by a footbridge.
This was the 17th article in our "52 Reasons to visit" series. Take some time to read our next reason: Acadian Heritage, or last week's reason: Fundy's Historic Sites. We also think you may want to take a look at the overview of all the articles in this series and use our RSS feed so you won't miss any further articles!