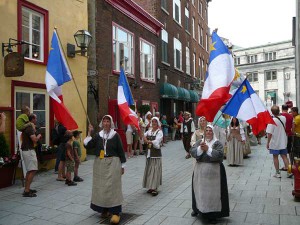 In a few distinct communities along the Fundy shoreline, observe the tri-coloured Acadian flag proudly flying from many homes and public buildings.
Travel the French Acadian Shore between Yarmouth and Digby, Nova Scotia. Set on the Baie Sainte Marie, the large community known as Clare was first settled by Acadians in 1768 (Municipality of Clare, 2005). The language spoken here today is reminiscent of 17th century French with an interesting twist of a few Mi'kmaq and English words. It is along this shore that you will discover one of the most celebrated Acadian churches – St. Mary's Church.
Nearer the head of the Bay of Fundy, the Grand Pré National Historic Site commemorates Acadian culture, an Acadian settlement (1682-1755) and the Deportation (1755-1762). Featuring 14 acres of formal gardens, the site is home to beautiful monuments and statues. In addition, this 17th-18th century Acadian village is the scenic setting for Longfellow's famous poem Evangeline: A Tale of Acadie. (Parks Canada, 2011.)
Also located in Grand Pré is the Acadian Cross Historic Site. Erected in 1924 as a memorial to the Deportation of 1755, the Acadian Cross is also known as the Deportation Cross. Interpretive signs at this historic site tell of Acadian history, the dykes and the significance of the cross.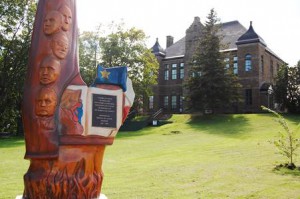 In New Brunswick visit the birthplace of New Acadia – Memramcook. A valley filled with history, culture and striking scenery, while in Memramcook hear tales of the Acadian Odyssey with a visit to Monument-Lefebvre. A memorial to its namesake and founder of the first French-language, degree-granting college in Atlantic Canada, Father Lefebvre, the monument also serves to symbolize the rebirth of Acadian culture and to commemorate the survival of the Acadians throughout the Maritimes.
This was the 18th article in our "52 Reasons to visit" series. Take some time to read our next reason: Historic Churches, or last week's reason: Lighthouses. You'll also want to take a look at the overview of all the articles in this series and use our RSS feed so you won't miss any further articles!